Wayne Rooney: England new boy Harry Kane needs room to breathe
Last updated on .From the section England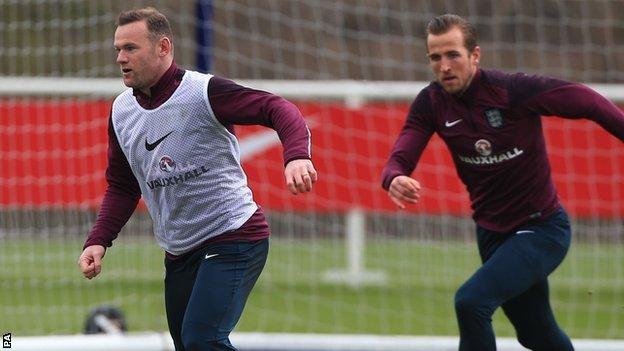 England captain Wayne Rooney has warned against putting too much pressure on fellow striker Harry Kane.
"He hasn't even played a full season in the Premier League yet," said Rooney.
"So, although he has done really well, we have to give him room to breathe rather than smothering him and demanding a lot at an early age."
The game against Lithuania is a Euro 2016 qualifier and Group E leaders England have a 100% record after four games going into the match at Wembley.
"We should give him time. Let him continue to do what he is doing and that will be the best way to get the best out of him," added Rooney.
'A young squad'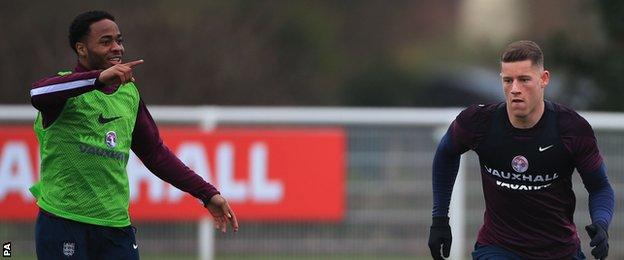 Manchester United forward Rooney hopes that Kane can maintain his "sizzling" form as he admitted competition for places should be enough to guard against complacency against Lithuania.
"There are places up for grabs so I don't think there will be any complacency from us," said the 29-year-old.
"It's great to have young players doing well and there are so many. Ross Barkley, Raheem Sterling, Jordan Henderson, Danny Welbeck have come in and done really well.
"You know you have to play well to keep your place in the team."
Sir Bobby Charlton's record
Rooney is just three goals from reaching Sir Bobby Charlton's record 49-goal total for England.
"Of course I'm aware of it," said Rooney.
"If it happens then that's great but the main aim for me is focusing on the game on Friday and helping us to get a step closer to France next year."
Like Father Like Son
Rooney revealed his goal celebration against Tottenham, when he parodied his infamous kitchen boxing antics, was copied by his eldest son Kai, five, at school.
"It's funny, actually. My wife went to pick up my lad from school and saw him doing that in the classroom. I'm sure you won't be seeing that again."