Premier League clubs deserve more credit - Richard Scudamore
Last updated on .From the section Football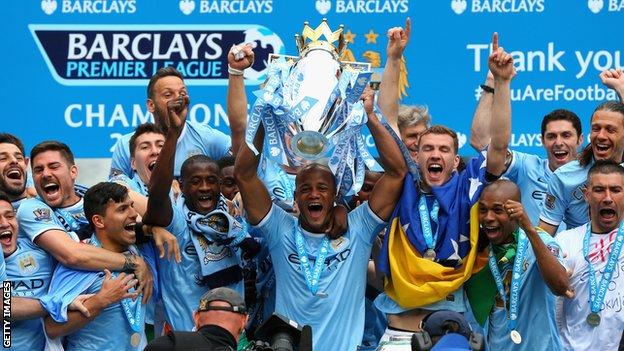 Premier League boss Richard Scudamore says top-flight clubs do not get enough credit for the financial contributions they make to English football.
Campaigners for more grassroots investment have criticised the pledge.
But Scudamore told BBC Sport: "This is £50m a club they've promised. It is an awful lot of money for a club."
The 55-year-old chief executive continued: "There was quite a reaction to the £5bn announcement and quite a lot of negative reaction, which is very interesting given that it's a measure of the Premier League's popularity and success.
"So the clubs thought, right, let's make an early commitment and a big, strong, bold commitment.
"The clubs are doing an enormous amount in this space and they don't get credit."
However, Kenny Saunders, the founder of the Save Grass Roots Football campaign who has set up an e-petition asking for 7.5% of the new TV deal revenue to be invested in grassroots football, told BBC Sport: "It is a publicity stunt. He [Scudamore] is trying to put the clubs on a pedestal.
"If the Premier League had done what they said they were going to do in 1999 in the task force agreement by investing 5% in grassroots we wouldn't be in this state.
BBC sports editor Dan Roan's analysis
Some critics will say a 40% increase in the amount the league gives away could and should have been more, given that the TV deal leapt by 70%. They will also wait to see whether a larger proportion of the money - currently 3% of revenue - goes to the grassroots. Most goes to relegated clubs in the form of parachute payments.
On the issue of ticket prices, while recent initiatives to help travelling fans will continue, do not be surprised if the clubs remain resistant to demands for action over price rises.
"They already put in £700m so it is only an extra £300m. The stats speak for themselves. They are sitting well off."
The £1bn pledged by the Premier League sides, which is dependent on a regulatory challenge from Ofcom and income from international TV rights sales, is a 40% increase on the previous donation of £700m.
The figure includes parachute payments to relegated clubs (£60m per club over four years) and a living wage for all full-time staff. (which is £9.15 an hour in London and £7.85 an hour in the rest of the UK).
On Thursday, Scudamore labelled the pledge as an "unprecedented level of redistribution in world sport, let alone football" and promised that it "will deliver long-term progress for English football whether you are a fan, lower-league club or involved in the grassroots."