Dave Edmondson: Bristol Academy have no need to panic
Last updated on .From the section Women's Football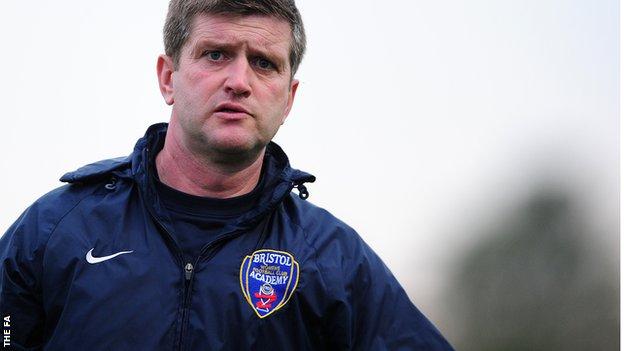 Manager Dave Edmondson has called for calm following Bristol Academy's FA Cup exit and heavy Champions League loss.
Three days after that defeat, Bristol suffered a 2-1 extra-time loss to Women's Super League Two side Everton in the fifth round of FA Women's Cup.
"We've spoken about not panicking after the first two games," Edmondson said.
"We played well on Tuesday night and should have won that game.
"We are not far off what we think we can do and what we can achieve so we need to keep believing in that and really put the Frankfurt thing to one side."
While Edmondson admits they are no longer in serious contention for a semi-final spot in Europe, he insists they still have plenty to play for in Frankfurt.
"It is a pride thing really, just to show that we can perform at that level," 43-year-old Edmondson continued.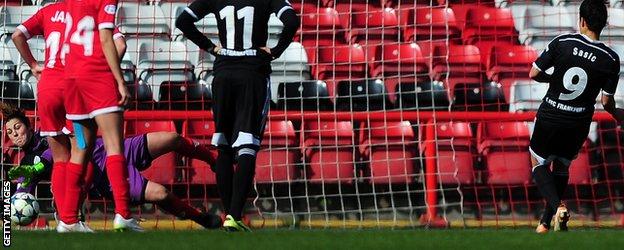 "We just need to be a little bit careful. We can't be gung-ho otherwise a team of their quality will pick us off.
"We go into this as one-off game, we won't ever talk about 5-0 and second legs and what we need to do to comeback.
"If we produce a performance that we are happy with then it can set us up for the season. We can get some confidence up for the WSL, which is our bread and butter."
For Edmondson, their run in Europe is the source of great pride and the lure of playing the FA Cup final at Wembley was a huge motivation, but he refuses to let two defeats deflect his focus.
"Our main priority is to make sure that we are in the top division again next year," he said.
"Obviously we wanted to go to Wembley in the FA Cup and want to go all the way in the Continental Cup.
"We will never take any game lightly, but if there is an extra one percent we can give then it will always be in the WSL because that is where you need to be - you can't play Champions League football unless you are in WSL 1."