Southampton: Katharina Liebherr makes additional £20m loan
Last updated on .From the section Football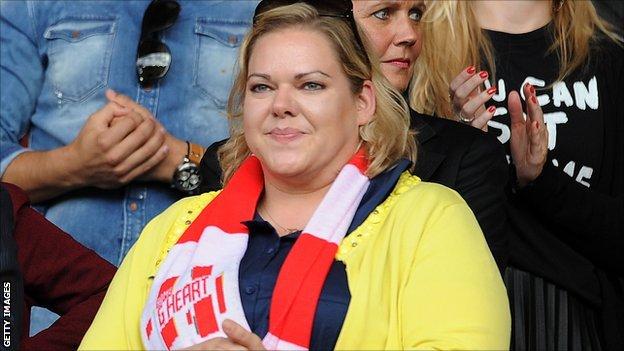 Southampton owner Katharina Liebherr has strengthened her commitment to the club with an additional £20m loan.
Liebherr also gave the board permission to reinvest transfer income gained from last year's summer exodus of players.
The news comes as annual results for the 2013-14 period show further loans totalling £29.1m from Liebherr.
"It really demonstrates her commitment to the club to a certain extent," Southampton chief executive Gareth Rogers told BBC Radio Solent.
"She had decisions to make in the summer. She could have sold the players and cleared her debts in the club but said we had that money to reinvest.
"At the same time she saw there was a hole in the cash flow as a result of the decisions taken previously at the club.
"Therefore she showed that commitment by adding an additional £20m to pay for things such as the legacy of the training ground, past transfer fees - all the things you cannot avoid."
Liebherr, whose father Markus bought the club in 2009 but died a year later, installed herself as director following the departure of chairman Nicola Cortese in January 2014.
The annual results for the year ending 30 June 2014, the season in which Mauricio Pochettino was manager, also show:
The first full-year profit the group has recorded since administration in 2009 (£33.4m)

The loan with Vibrac, taken out in September 2012, amounts to £19m

Expenditure on the training ground, originally estimated at £15m, has risen to £38m

Total revenue increased to £106m (2013: £71.8m) with £31.8m net assets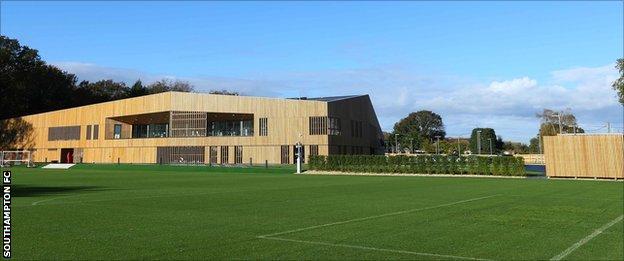 Rogers also reiterated chairman Ralph Krueger's message that Liebherr was not looking to sell the Premier League club.
"It's shown from the financial perspective," added Rogers. "But also from the perspective that she was here at the Christmas party, we fly over to see her regularly to update her, she comes to games.
"I'm not quite sure what more we can say to convince you. It seems to be an eternal question that wants to be asked because everyone wants a different answer."
In the period ending 30 June, wages at the club increased from £41.4m to £55.2m while there was also a small increase in commercial income, from £6.7m in 2012-13 to £8.3m in 2013-14.
The Saints are enjoying their most successful Premier League season and are on course to secure European football, despite having sold the likes of Adam Lallana, Calum Chambers, Luke Shaw, Rickie Lambert and Dejan Lovren.
Rogers said they have planned for every eventuality, including the prospect of playing in the Champions League.
"Like any business we scenario-plan - four months ago we sat down and ran through the three different scenarios," he said.
"Therefore, are we ready for European football? I would say yes. If you look at the infrastructure off the pitch we believe it's the best in British football."