Coach Honour Janza feels 'betrayed' by Zambian FA
By Kennedy Gondwe
BBC World Service, Lusaka, Zambia
Last updated on .From the section Football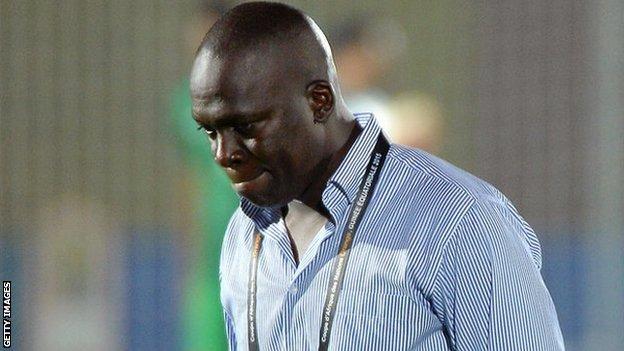 Outgoing Zambia coach Honour Janza says he feels "betrayed" by the way the country's football association has gone about replacing him.
The announcement was widely reported in the media on Sunday, the day Janza oversaw a friendly win over Rwanda.
"I was surprised to read about my departure because no-one has told me anything," Janza told BBC Sport.
"Why should the issue of my employment be a matter of discussion at the AGM? I thought it was a managerial issue between me and my employers?
"It was quite disturbing because I just read about it in the morning of the game.
"Then I had to be in front of the players. How can players respect me like that? If I was made aware, I would have prepared myself psychologically."
Janza was appointed as Chipolopolo coach in August 2014 after the departure of Frenchman Patrice Beaumelle and has been working without a signed contract.
He was in charge of the team at the Africa Cup of Nations in Equatorial Guinea earlier this year, where the team suffered a first-round elimination, but is now set to be pushed aside for a new man.
Football Association of Zambia (Faz) president Kalusha Bwalya said: "The executive committee sat and evaluated the performance of the technical bench and the decision was made to find a foreign coach who will fit the national team profile."
Janza has insisted that he does not know if Sunday's match was his last.
"I have not been officially told whether this is my last game or not. After the match the Faz president came to me to ask me about my programme for the upcoming matches," Janza said.
"It's something that is paining me but I have to respect my employers. I don't want to injure my employers or come out like I am fighting them."
There have been questions over Janza's coaching qualifications, with some suggesting he is not at the appropriate level to be in charge of the national team.
Janza, who was assistant boss under Herve Renard and Beaumelle, holds a Uefa 'B' coaching licence, a Confederation of African Football (Caf) 'A' licence and is an elite coach's instructor for the continent's governing body.
He has also held the post of Faz technical director and could return to that role once a new coach has been appointed.
However, he said: "Once beaten, twice shy. I am not comfortable with these people.
"I am not happy with the way I have been treated. I don't think I can trust anyone and I am saying this from deep down my heart.
"I have not differed with anyone but I am not happy with the way I have been treated.
"There's been a lot of hide and seek and that's not nice in the game of football and when managing other human beings."