Walsall: Michael Cain says sorry for angry post-Wembley tweet
Last updated on .From the section Football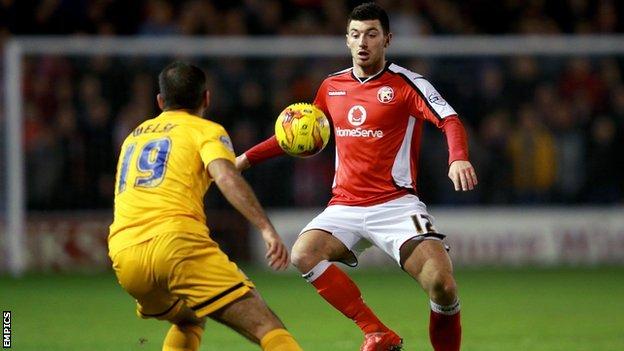 Walsall midfielder Michael Cain has apologised to his Saddlers team mates for tweeting his frustration at missing out on a Wembley appearance.
That followed the return of rival Sam Mantom after a season-long knee injury.
Cain has now said sorry for taking to social media for his post-match moan.
And Walsall manager Dean Smith admits that, having been an unused substitute, that it was big of him to come back in and apologise to his team-mates when they returned to training on Tuesday morning.
Keep following the Saddlers with BBC WM
There will be full match commentary on BBC WM 95.6 of Walsall's trip to Chesterfield this Saturday (15:00 GMT), with Paul Franks and Rob Gurney.
"I was quite proud of him for doing that," Smith told BBC WM. "It would have been easy not to and we didn't ask him to.
"I can understand him being angry at not getting on. I didn't expect him to be skipping out of Wembley if he hasn't played.
"But his reaction in saying what he has and coming in and training the way he did was great. He knows he was wrong, but it's an experience he'll learn from.
"An awful lot has been made of the choice between Mantom and Cain, but it wasn't as cut and dried as to who was playing the better. Sam had done well in the two games previously and deserved his place, but Michael had an illness at the start of the week and that also came into my thinking."
The Saddlers are back in League One action on Saturday at Chesterfield, when they will start the day just four points clear of danger.