Gary Locke a strong candidate for Kilmarnock job, says Jim Mann

By Alasdair Lamont
BBC Scotland
Last updated on .From the section Football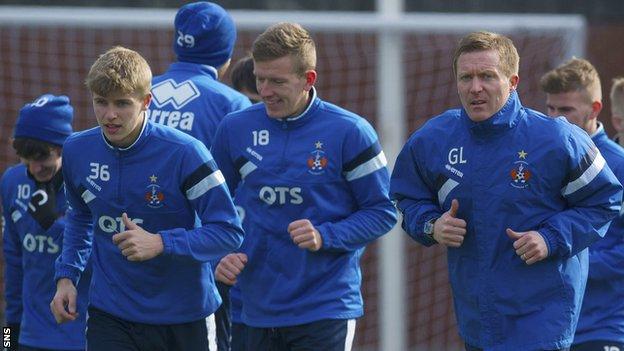 New Kilmarnock chairman Jim Mann says interim boss Gary Locke's credentials for the role of permanent manager of the club are very strong.
Mann wants to make an appointment before the Scottish Premiership splits in two next month.
Killie have received several applications for the role vacated by Allan Johnston last month.
But Mann said: "We want to sit down and have a proper discussion with Gary Locke before looking at those options."
Interim boss Locke's man-management and tactical nous were highlighted as particular strengths by Mann.
And he dropped a further hint that Locke could be the board's favoured option, adding that appointing a man already at the club would save time and allow the important business of planning for next season and beyond to begin in earnest.
The chairman wants the permanent successor to Allan Johnston to instil an ethos from youth level upwards, admitting that attempts at that approach had stalled since Kenny Shiels' departure as manager in 2013.
"Gary has set his credentials out really well for us as a football club and has put himself into prime position really to be a contender for doing this," he said.
"On the other side of this we know we have an egg-timer the wrong way up in terms of choosing someone so we need to be in a position where we can make our mind up pretty quickly - at least by the split we need to have decided who that's going to be.
"So that's what the board is concentrating on - just trying to get that over the line in terms of (a) making the choice and (b) appointing the individual.
"We've already had quite a lot of people making applications, we've had a good look at that and we need to shortlist down to whatever.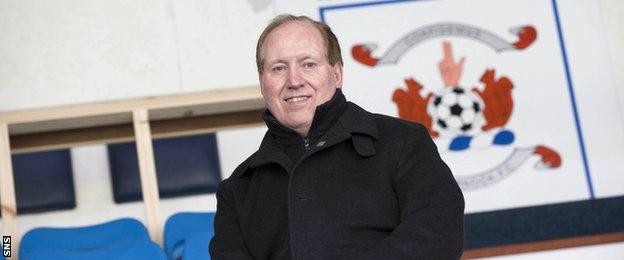 "Clearly we want to have a long and deep conversation with Gary first, before we go down that particular path.
"The decision criteria we want to use is not just for the next few matches, it's for two to three years. We're defining what we call the 'Killie Way' of playing and we need a manager who's comfortable about working on that.
"That means a manager who's not just interested in the first team, who's interested in what's happening up and down the structure, so that's one key part of it.
"Secondly, we want someone who's a really good man manager, because man-management in terms of motivating people to go out and win is a lot talked about but actually quite a rare skill. In that area Gary has set his credentials out remarkably well.
"I've not had a player in this club who hasn't come and said to me 'you should appoint Gary'. So he's got that - pretty much ticking the box.
"The other part of it is just purely technically and tactically - how wise is that person to be able to organise a structure - the team on the park and again we're seeing substitutions happening here that do make a difference. So, again, we're getting a clear nod in that direction that Gary's probably got credentials there as well.
"What I'm trying to give is a clear indication that we're keen to get somebody appointed fast and obviously if somebody's here we can get through that whole process as fast as possible, it's far quicker to get that person on board than to get somebody else."