Harry Kane 'dream' continues as England impress again

By Phil McNulty
Chief football writer
Last updated on .From the section Football385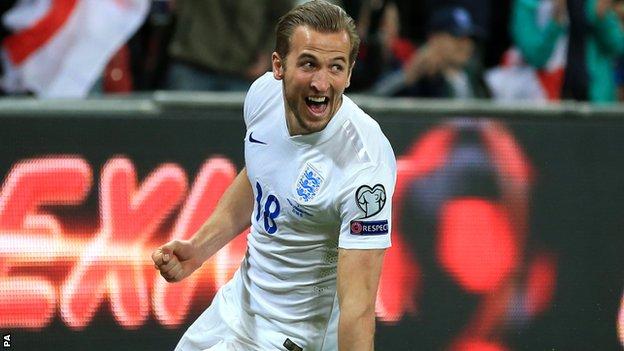 Harry Kane may not - in the words of the song - score when he wants but it was a close run thing when Tottenham's striker was finally introduced for his eagerly-anticipated England debut against Lithuania.
After a four-minute wait on the touchline alongside fellow substitute Ross Barkley as a period of prolonged possession broke out, Kane had two touches to familiarise himself with his surroundings at Wembley before heading in Raheem Sterling's cross at the far post.
Kane had scored 79 seconds into his senior international career to continue his storybook season, applying the final flourish to England's 4-0 win, their fifth in five Euro 2016 qualifiers.
Kane adds Midas touch for England
Former England international Chris Waddle swiftly - and it should be said realistically - calmed any potential hysteria surrounding Kane's instant impact in his role as match summariser for BBC Radio 5 live at Wembley.
He said: "Well done to Harry Kane but I think Michael Caine and Citizen Kane would have scored against this lot."
Some may accuse Waddle of being a party-pooper but a dose of cold, hard realism never does any harm and even Kane himself may accept he could barely have had more compliant opposition than the Lithuanians to ease his way into full international football.
Greater tests lie ahead - perhaps not in England's qualifiers but certainly on Tuesday night in Turin when England face Italy in a friendly.
What is beyond dispute is that England were able to introduce a player on the hottest of hot streaks, with 29 goals in all competitions for Tottenham this season and now a goal he will cherish for the rest of his life.
There was a real sense of anticipation surrounding Kane at Wembley. As his name and face flashed on the big screen among England's substitutes before kick-off, a resounding roar swept around the stadium.
The 21-year-old is England's man of the moment, even from the bench, and a brisk trot down the touchline brought another ovation.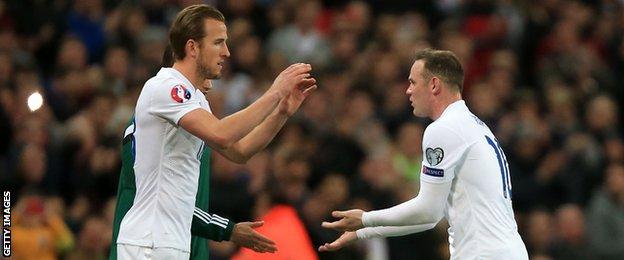 Once he came on, the scriptwriter he has been using at White Hart Lane this season stretched the plot almost to breaking point with the goal, taken from the Kane template of finding space in a packed area to pull away at the back post to score with a downward header.
Wembley rose to the modest young striker who has taken the Premier League by storm, claiming the headlines once more.
It will not always be like this for Kane. A dip into Spurs history will tell him that the great 1961 double-winning manager Bill Nicholson scored after 19 seconds on his England debut against Portugal in 1951 - and never won another cap.
Kane will win his second cap in Italy on Tuesday and this was a feat that will increase the calls for him to be named Footballer Of The Year. It was just another day in his dream season.
Welbeck shows why Hodgson was right to resist Kane clamour
England manager Roy Hodgson ignored the clamour to play man-of-the-moment Harry Kane from the start against Lithuania - and was right to do so.
Hodgson showed commendable, and understandable, loyalty to Danny Welbeck as a justified reward for a player who has served him so well with five goals in four Euro 2016 qualifiers before adding a sixth against Lithuania.
Welbeck scored twice in the crucial opening win in Switzerland, added another against San Marino then scored two more against Slovenia - how could Hodgson leave the Arsenal striker out?
Hodgson was accused by some of exposing an over-cautious nature in keeping Kane back but to exclude Welbeck would have been an injustice and his man-of-the-match performance repaid his manager's faith.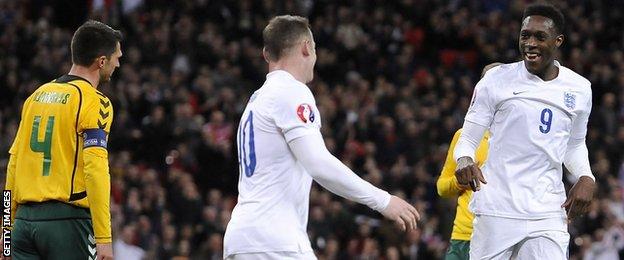 Welbeck was busy and mobile, setting up Wayne Rooney's first goal, after his shot was saved by Lithuania's gallant goalkeeper Giedrius Arlauskis, then scoring a deflected second.
He is a player Hodgson has grown to trust implicitly since he was appointed England manager just before Euro 2012 and those assuming he will discard Welbeck instantly to select Kane or anyone else simply to respond to public opinion may be in for a disappointment.
Kane, rightly, claimed the spotlight for his spectacular introduction to senior international football, but Welbeck was England's most effective player and will not go quietly if it comes to a fight for his place.
This is the good news for Hodgson as he contemplates increasing competition for attacking places in his England squad.
Rooney on course for history
Wayne Rooney started the Euro 2016 qualifier with Lithuania on 46 England goals - just three adrift of Sir Bobby Charlton's all-time record.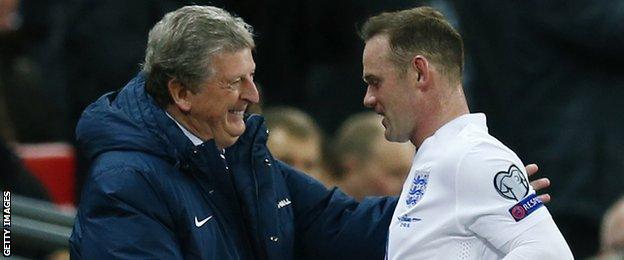 Rooney could, perhaps should, have equalled Charlton's record by half-time as he scored once and hit the post with two other chances. His pursuit of Charlton's landmark added a welcome layer of interest to a game that, while a competitive fixture, was little more than a formality.
He could not add to his tally despite England's second-half domination but it is now only a matter of time before the man who won his first cap at the tender age of 17 years and 111 days in a 3-1 loss to Australia at Upton Park in February 2003 is out on his own.
It is to Rooney's credit that he is never seen to be chasing the record. It will arrive naturally and in its own good time. He is a selfless player who refuses to chase the quick fix to glory, happy to set up colleagues in a better position if the occasion demands.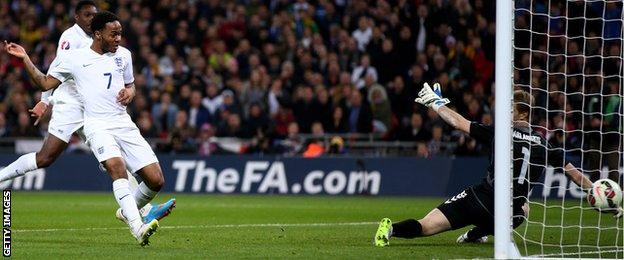 Rooney set up Raheem Sterling for his first England goal and was as delighted as anyone on the bench when his replacement, Kane, scored.
He will hope to take the next step towards Charlton's record in Turin on Tuesday and if not when England travel to Dublin to face the Republic of Ireland in a friendly on 7 June and in their next qualifier in Slovenia a week later.
History awaits Rooney - it is just a question of when.
And with that record secured, England will hope he can lead England to France for Euro 2016 and have the sort of impact on a major tournament that has eluded him since he burst on the international scene at Euro 2004.
No excuses for England failure
England needed all the help they could get when they left Brazil after the group stages following a World Cup fiasco last summer. The draw for Euro 2016 provided it.
Manager Roy Hodgson and his players, given a remarkably easy ride despite the scale of their failure in South America, were offered the perfect recipe for rehabilitation as Group E put them alongside Switzerland, San Marino, Estonia, Slovenia and Lithuania.
If England had hand-picked their opponents in an attempt to rebuild a shattered reputation, this would have been their ideal opposition and results have reflected that with five wins out of five.
England's results since the 2014 World Cup

3 September:

Beat Norway 1-0

8 September:

Beat Switzerland 2-0

9 October:

Beat San Marino 5-0

12 October:

Beat Estonia 1-0

15 November:

Beat Slovenia 3-1

18 November:

Beat Scotland 3-1

27 March:

Beat Lithuania 4-0

31 March

v Italy (Turin)
Hodgson rightly insists England can only beat what is put in front of them and they are doing a very good job of it. It may well be, however, that friendlies provide the more realistic measure of where they stand before they get to Euro 2016.
It opens up the dilemma of what is preferable. Is it better to have the cosy group they are currently navigating or have tougher tests that might get them battle-hardened but run the greater risk of trouble?
Hodgson, the pragmatist, would take the easiest route every time. Any manager would.
Qualifying will surely be easy from now on - but in reality there was not a single excuse for England failure from the group they were handed.
They are doing the job efficiently. And so they should.