James McClean 'hung out to dry' by Sunderland over poppy
Last updated on .From the section Football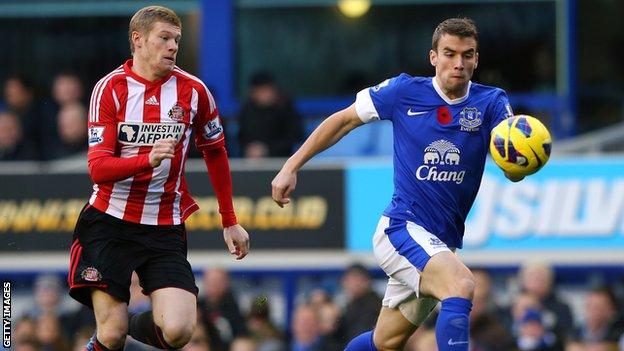 Republic of Ireland international James McClean says he was "hung out to dry" by former club Sunderland over his refusal to wear a poppy on his shirt.
Midfielder McClean chose not to wear a poppy during a Premier League game at Everton in November 2012 but says the Black Cats did not let him explain why.
Sunderland have refused to comment.
The 25-year-old, now at Wigan, was born in Derry, where British soldiers shot dead 13 civilian protestors during 'Bloody Sunday' in 1972.
In an interview with the Irish Independent, McClean claimed he was vilified by Sunderland supporters for his actions.
He said: "They didn't understand. To them, I was disrespecting their country, disrespecting their fallen heroes, disrespecting their culture. I was getting booed every touch.
"When I asked to be allowed to speak about it, I was told that that was a bad idea, not to say anything and let it blow over. So it was kind of brushed under the table and I felt that that was more for the club's benefit than mine.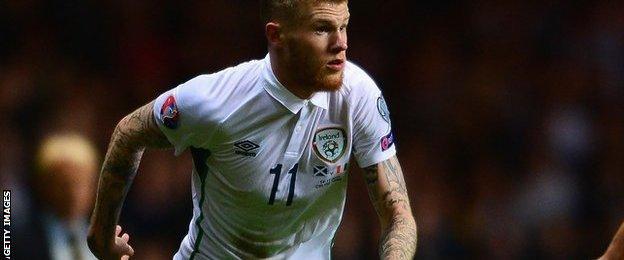 "When you think two years later I finally get to speak about it - for me, that's two years too late. I think I was hung out to dry by the press people at Sunderland."
He added that then Sunderland boss Martin O'Neill, who is also from the Londonderry region, supported his decision.
Sunderland is an area with close ties to the military and the Black Cats were one of the first clubs to wear poppies on their shirts.
McClean continued his stance when he moved to Wigan in August 2013. This season, he wrote a letter to then-chairman Dave Whelan explaining that while he has "complete respect" for those who fought in both world wars, the poppy had "come to mean something different" in the years since.
Wigan then published the letter on their website.
Having played seven times for Northern Ireland at under-21 level, McClean, an Irish Catholic, also caused controversy in 2011 when he committed to the Republic, under a ruling that allows players from Northern Ireland to choose which national side they represent, provided they have not played in a competitive senior international.
"I think I'm always going to get some abuse being from Derry and playing for Ireland when I had the choice I had. I think some people are always going to hold that against me, regardless," he said of his decision.