WSL 2: Aston Villa Ladies and Doncaster Rovers Belles win
Last updated on .From the section Women's Football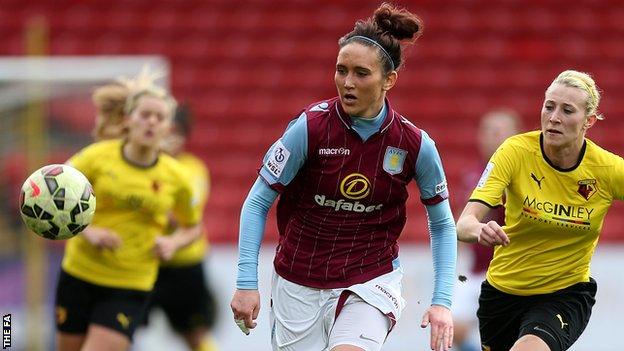 Head coach Joe Hunt praised midfielder Alicia Robinson after her brace helped Aston Villa to their first Women's Super League Two win of the season.
Hunt's side trailed early on at Watford but hit back to win 4-1, with Robinson involved in all four goals.
"She is an excellent player," Hunt said. "She has such wonderful technique and movement, played very well and will be very important going forward.
"It feels great to win our first game this season. We were the better side."
After losing their opening league game to Everton last week, the Lady Villains have since reached the quarter-finals of the FA Cup before winning at Vicarage Road.
Watford captain Megan Wynne opened the scoring but Villa responded with four goals before the break.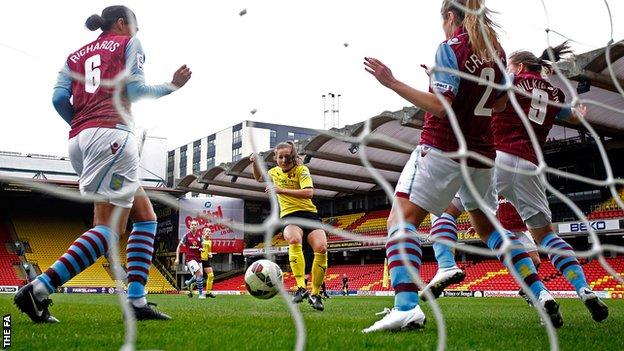 Robinson sent in a dangerous free-kick for Kerri Welsh to head the visitors level, before curling an unstoppable effort into the top corner from outside the penalty area.
She was involved again as Watford goalkeeper Shayla Burgess was penalised for a foul in the area, and Katie Wilkinson scored from the spot.
Robinson, who also scored in Villa's cup win over Sheffield last weekend, added a fourth after pouncing on a mistake from Hornets defender Renee Hector.
Watford were unable to mount a second-half comeback, but could at least celebrate a record home crowd of 1,102, which far exceeded their previous highest attendance of 340.
"To play in front of such a big crowd was a new thing for the players and I think they responded better second half," said Watford boss John Salomon. "But that's no excuse, it was a bit late by then."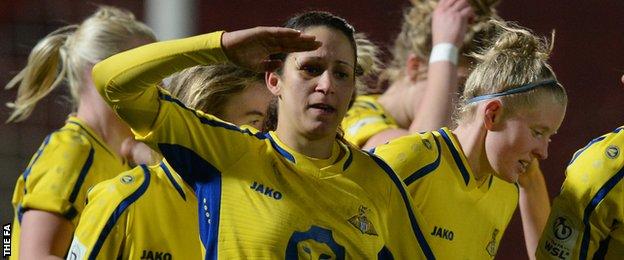 The result leaves Watford bottom of WSL 2 on goal difference after their first two matches.
Elsewhere, Courtney Sweetman-Kirk scored twice as Doncaster Rovers Belles edged past Yeovil 2-1 to make it two WSL 2 wins from two.
Sweetman-Kirk pounced on an under-hit backpass from Helen Bleazard to put the Belles in front after 40 minutes.
Paige Stewart turned home Bleazard's cross to level before the break but Sweetman-Kirk drove in the winner from 15 yards five minutes from time.
Belles head coach Glen Harris said: "We stole the win, and we know we can play better.
"I said we wanted to be up in the top three after the first four or five games, so I've got to be happy with two home wins so far."
Yeovil boss Jamie Sherwood added: "The team gave absolutely everything that we asked for. We wanted a 90-minute performance after playing for 45 last week, and we got it.
"The scoreline hasn't reflected the game - it feels like they have stolen points from us."