Manager David Wilson says Gibraltar ready to shock Scotland
Last updated on .From the section Football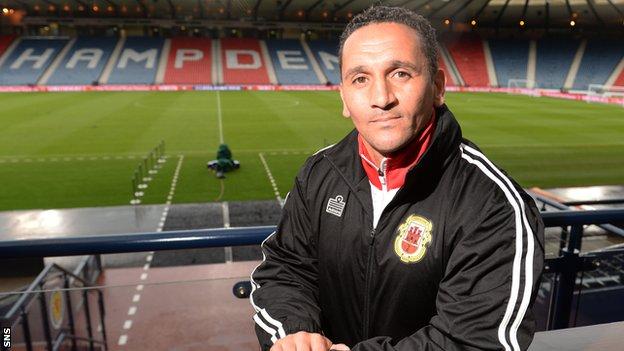 Gibraltar manager David Wilson says if his team can recreate their Germany performance they can shock Scotland.
The Group D minnows have lost all four Euro 2016 qualifiers so far, but did enough in the 4-0 defeat to the world champions to show they are improving.
And Wilson says his team can prove ex-Celtic striker John Hartson wrong, who described them as a "pub team."
"We did things wrong against Germany but still came away with a fantastic result," he said.
"If we do the small things and we do it well we can upset anyone. It's happened for lesser teams than us on bigger stages."
Scotsman Wilson leads his team out against his home country, and says it is a dream come true to be facing Gordon Strachan's men at Hampden.
He said: "The stars have aligned. The two greatest things I love in the world coming together on the same night. It's phenomenal.
"I've told them [the Gibraltar team] to expect the unexpected. The Scottish team at the moment are playing out of their skin. They're better than what we have, we know that, but per player, for what they're achieving in this group is phenomenal.
"To expect the same level of intensity we had against the Germans, the Irish, but with the passion of the fans that maybe they've never experienced before."
Scotland have slipped up against smaller sides before, with the likes of Estonia, Liechtenstein and the Faroe Islands all causing them problems in the past.
"As soon as the whistle goes it's 0-0, we've got a draw before the game has even kicked off. It's a cliché but it's the truth," continued Wilson.
"So if we go and defend well and frustrate for long periods of time then that's where the upset will come from. The longer a team like us can frustrate a team like Scotland then the tougher it gets for them and the easier it gets for us.
"We're not naive, we understand what the task is. And we're preparing for that task."
He added: "I normally like reading the papers but leading up to these games I don't bother.
"Great professionals, ex-footballers are welcome to their opinion. The opinion of the 23 lads I've got in the camp is what really matters to me.
"We must be the best organised pub team that John Hartson has ever seen. Bring your pub champions out and we'll give them a game."