Twelve hours for six minutes - the diary of a frustrated Southend fan
Last updated on .From the section Football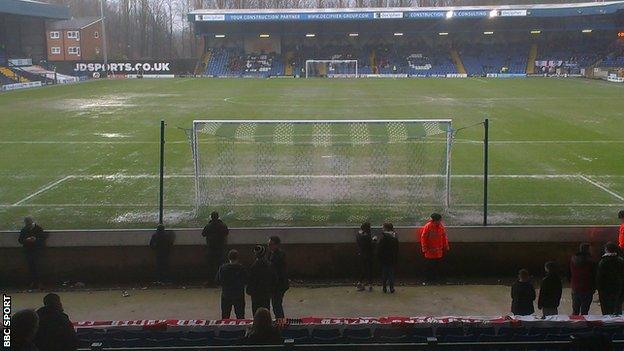 "Something similar has happened before.
"A few years ago I was on my way to Accrington and the game was called off at 14:00. But that wasn't the end of the world. I ended up going to Ewood Park for Blackburn against Newcastle, which was a new ground, and I saw a game, even if it did finish 0-0 and was last on Match of the Day.
"This was 12 hours for six minutes."
Such is the life of a football fan, in this instance James Durham, who follows League Two Southend United, home and away.
Along with his dad, Ashley, and brother Tom, Durham, 24, was amongst a 342-strong visiting contingent to make the near-500 mile round trip to Bury - only for referee Tony Harrington to abandon the game due to a waterlogged pitch after six minutes.
Here Durham, who works for a finance company in Brentwood, Essex, chronicles a day in the life of a frustrated fan.
09:30 - Arrive Chelmsford Station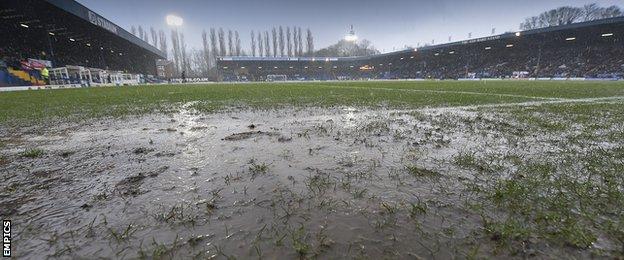 We got the train tickets three or four weeks ago. I have only missed three matches this season. It is March, so I wasn't expecting a problem but I did check the weather in the morning and saw it was raining in Bury. On the way up I saw a picture of the pitch. It was in fairly bad condition.
14:00 - Arrive Bury
We went to a pub, then started walking to the ground. Normally we get to the game early but somehow we got lost and only got there about 20 minutes before kick-off. I have a flag, so I set it up and got ready for the game.
15:00 - Kick-off
When we kicked off, the ball wasn't really moving. The ball was going back to the goalkeeper and stopped in a puddle. Our player ran past it. He couldn't control it. That is when the referee went over to the managers. [Southend manager] Phil Brown came over and said they would make a decision in 10 or 20 minutes. It turned out to be about five. There was a tannoy announcement saying the match had been abandoned.
15:15 - Match abandoned
I was gutted. It was a big game, fourth against fifth. We had been planning it for weeks. Initially we were given a voucher to get into the next game for half price. That was a sickener, thinking I would have to pay if I wanted to come to the second game. It turns out now the ticket holders will be admitted free. But we had advance purchase return tickets for 18:15, so we had three hours to kill. We went to a pub in Bury, then one in Manchester. We just had to hang around really.
21:30 - Arrive Chelmsford
A 12-hour day for six minutes of football. The overall cost was between £75 and £85. When mum found out she just said 'what a waste of money'. It would be nice if there was some kind of subsidised travel for the rescheduled game, although I am not sure whether I will be able to go anyway.
Will it put you off?
No chance. It is a risk you take, even if, in this instance, I didn't think there was much of one. It was a big game. In a few weeks' time it might not be as big - or it might be even bigger.
And if that wasn't bad enough
In addition to their fans' wasted trip, the Southend team had an eventful time of it, with manager Phil Brown revealing the bus broke down on the way north and striker Barry Corr - who was named in the starting line-up at Bury - had previously been involved in a car accident on the A127.