Keith Hill: Rochdale boss 'pride' at achievements
Last updated on .From the section Football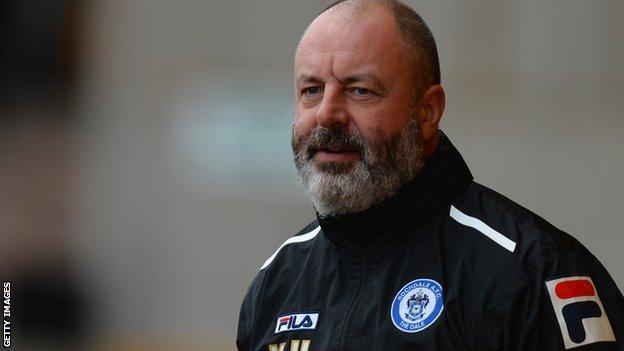 Manager Keith Hill has said Rochdale's performance in League One this season gives him a "massive sense of pride".
Dale, who were promoted from the fourth tier last season, beat Yeovil Town 2-1 on Saturday to move back into the play-off places.
Hill said it is "an embarrassment" that they are currently outperforming sides with bigger budgets.
"If you look at the teams we are challenging with - wow," the 45-year-old told BBC Radio Manchester.
"I know what it is like financially and the teams that are below us. It is an embarrassment that some of those teams in our league are so far behind us because I know what they're spending.
"For me we're out-stretching them and that is what gives me a massive sense of pride."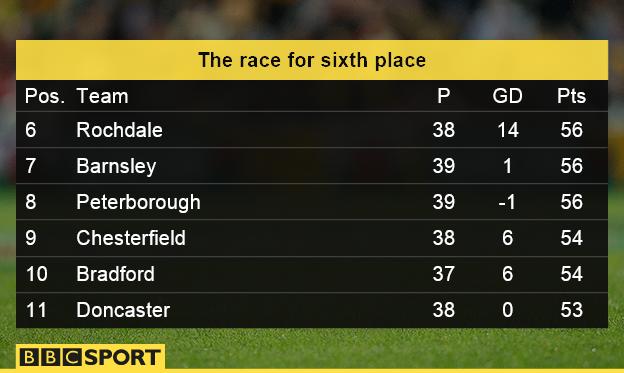 Hill was also pleased with how his side responded to Tuesday's 3-0 derby defeat by Oldham.
The former Barnsley boss was unhappy with some of the Latics' post-match celebrations, saying "a heavy dose of salt was rubbed into the wounds by a lot of people who represent Oldham".
He added: "From my point of view that [the win over Yeovil] is reward to the supporters and the players for the humiliation we had stressed upon us on Tuesday night by certain sections of the Oldham staff.
"Whether you win or whether you lose you've got to have a dignity about you.
"If you work for, or within, a football club and you're a supporter you should have the manners and a responsibility to wear a club badge and who you are representing.
"I'd like to just reiterate to the supporters that we are currently four points above Oldham and we still have a game in hand."
Keith Hill and Rochdale chairman Chris Dunphy are guests on BBC Radio Manchester's Football Hour on Monday, 30 March at 1800 BST.