Peterborough: Dave Robertson wants 'instinctive' play
Last updated on .From the section Football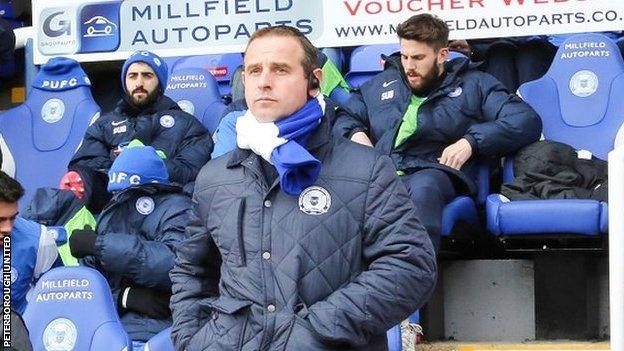 Caretaker manager Dave Robertson says Peterborough United need to be more "instinctive" in their attacking play.
Robertson told BBC Cambridgeshire: "Sometimes the players try to score the perfect goal.
"I want them to be more instinctive - when the ball drops out at the edge of the area, to take the shot. It doesn't have to be a perfect goal."
Having won each of Robertson's first four games in charge, Peterborough have lost two of the last three.
"I don't want them taking a touch, two touches, and trying to bend it into the top corner, because at the end of the day it's all about scoring the goal," said Robertson.
"That's what I expect of our centre-forwards, of our wide players, the midfielders, when they have the opportunity."
"We knew Coventry would be well-organised and try to match us up in terms of formation, and in the first half the two sides sort of cancelled each other out.
"In the second half we introduced [Middlesbrough loanee striker] Luke Williams, and I thought he was exceptional, he gave us another dimension and forced a couple of great saves from their keeper.
"But they got a little bit fortunate with a deflection for their goal, and that's what happens sometimes.
"That's disappointing, but we have seven games left and we have to stay positive and maintain our momentum going into the final weeks of the season."