Chris Wilder: Northampton Town must 'embrace pressure' of run-in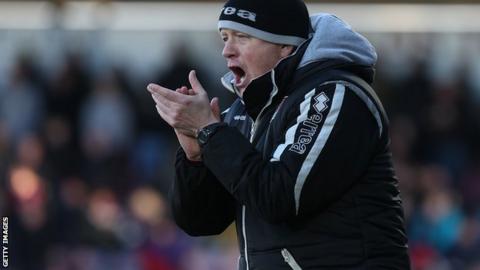 Northampton boss Chris Wilder wants his players to enjoy the pressure of their battle for a League Two play-off place.
Victory over Luton Town on Saturday left the Cobblers 10th in League Two and just four points off the top seven.
Wilder told BBC Radio Northampton: "The players have to embrace the pressure, and go and enjoy it.
"But that's what they're in the game for, they don't want to play mid-table football, and we'd swap this all day long for last year."
The Cobblers spent last season fighting to stay in the Football League.
"We've come quite a long way with a relatively new team, and we're still learning about each other a little bit," said Wilder, whose team had lost their two previous matches.
"If we'd got beaten by Luton, it wouldn't have been the end of the world, but it would have made it incredibly difficult. We controlled possession, we controlled the ball, we just needed to find that little bit of extra quality."
Northampton travel to AFC Wimbledon on Friday and will look to close the gap further.
Wilder added: "We've made it into a real exciting Bank Holiday. We'll take a lot of supporters down there, and hopefully [our promotion prospects] will still be alive and kicking afterwards."