Businessman Jim McColl upbeat on Rangers' future
Last updated on .From the section Rangers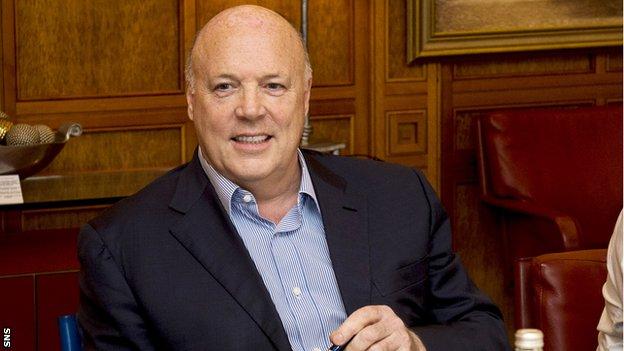 One of Scotland's foremost business figures, the Clyde Blowers chairman Jim McColl, believes Rangers will prosper under the new regime running the club.
"I think it's in good hands now," Rangers fan McColl told BBC Scotland.
"It's a relief to see we don't have people in there now that are looking to exploit the club for their own benefit, and that's what was happening."
In late 2013, on behalf of a group of disgruntled shareholders, McColl questioned the appointment of David Somers as the new chairman at Ibrox.
In recent years he offered potential investors in Rangers financial guidance and in January he donated his 10,000 shares in the club to fans' group Rangers First.
"It's on solid ground now in terms of the financial backing," continued McColl of the Championship club.
"It was in danger of going down the lower leagues for a long, long time."
The Rangers Supporters Trust and Rangers First increased their shareholding in the build-up to the extraordinary general meeting on 6 March when King and his allies took control.
"My idea was what is happening just now; you build up the fan ownership," said McColl.
"You can't come up with that money overnight. They are slowly building and they have been very good in terms of what they've been able to do in the past year with the Rangers Trust and Rangers First.
"They've got quite a good shareholding now and that will continue, I'm sure.
"The current major investors - the Three Bears [Douglas Park, George Letham and George Taylor], as they call them, and Dave King - are very supportive of that approach.
"I think a good model would be a third being owned by some rich individuals, a third being owned by the fans and a third owned by the public."
On Tuesday Rangers announced losses after tax of £2.89m for the six-month period to 31 December 2014.