Bristol Academy v Frankfurt 'like apples and oranges' - Edmondson
Last updated on .From the section Women's Football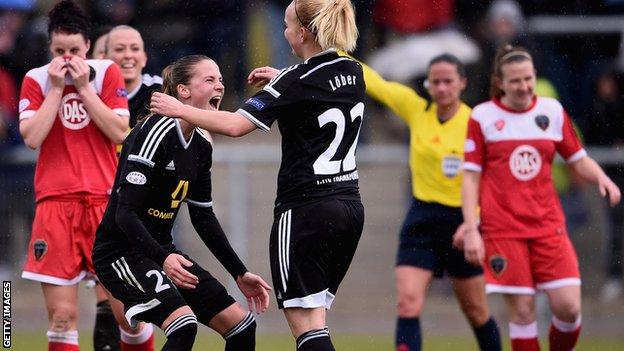 Bristol Academy boss Dave Edmondson says the difference between the Women's Super League side and Frankfurt is like comparing "apples and oranges".
Frankfurt beat the Vixens 12-0 on aggregate to reach the semi-finals of the Champions League.
"It's like playing with your legs tied together or one arm behind your back," Edmondson told BBC Radio Bristol.
"We were playing fully-paid, full-time professionals and senior international women."
Edmondson added: "They train 9.30 in the morning and 3.30 in the afternoon, five days a week and have a training session the day before the match.
"When they are training, our players are at work or at college. Then when we train at 9pm, Frankfurt are safely tucked up in bed preparing for the next day."
Bristol Academy chairman Simon Arnold said the Germans have a turnover 10 times the size of theirs.
It is that financial clout which has enabled the three-time Champions League winners and seven-time German Bundesliga champions to help advance the women's game both on and off the pitch.
"It is great to see the standard of play they produce and the standard of their whole organisation - their commitment to the game and where they are taking the women's game is fantastic," Edmondson said.
"We just played in a 12m euro stadium that is purely for the use of Frankfurt women's football club. They have players in club BMWs, it is completely apples and oranges from where we are.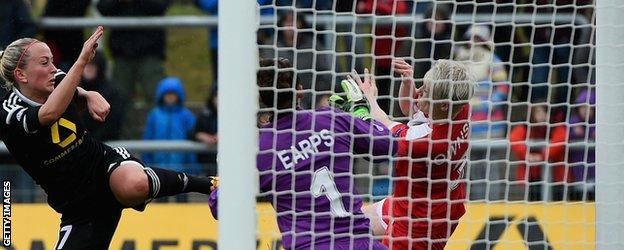 "For us now, we have to strive to get back there and closer to that."
For a Bristol side that starts their Women's Super League campaign against Chelsea on Thursday, defeat saw them exit their second competition inside a week - having been beaten by WSL 2 side Everton in the fifth round of the FA Cup on Tuesday.
Meanwhile, the Germans, managed by former Leicester City defender Colin Bell, are a step closer to a treble as they sit third in the league, having also reached the semi-final in their DFB Cup defence.
Edmondson said the timing of England's domestic season is a hindrance for sides in the later stages of European competition.
The Vixens saw several key players move on during the 128-day break between their last match match of 2014 - against Barcelona in the last 16 of the Champions League - and the quarter-final tie against Frankfurt.
"I wouldn't say it is impossible but it is hard," Edmondson told BBC Sport.
"With the amount of transfers that happen in that off-season period whoever is in the Champions League next year, whether they are a rich team or poor team like us, there will be a turnover of players.
"To play your first competitive match as a quarter-final in the Champions League is far from ideal."