Island Games 2015: Jersey name women's football squad
By Brent Pilnick
BBC Sport
Last updated on .From the section Football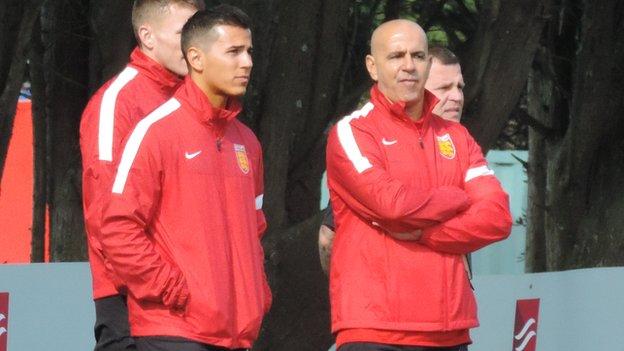 Jersey women's football manager Simon Petulla has named his squad for the 2015 Island Games.
Petulla, who has named an initial 22-player party with four goalkeepers.
He will reduce the number of goalkeepers to two in the coming weeks.
"We've looked at all the girls over the last months and there were a couple that could have gone, but we've picked the strongest that we had available," Petulla told BBC Sport.
Jersey are in a three-team group with Greenland and Norwegian island Hitra for the event, which is being held in Jersey from 28 June to 3 July.
Jersey's women at the Island Games
2011:
Eighth - failed to make the knockout stages after a win, a draw and a loss in their group
2009:
Third in group - beat Greenland and Saaremaa but lost to finalists Aland and Gotland in round-robin stage
2007:
Last - lost both group games and their play-off game to finish 11th out of 11 teams
2005:
Did not enter
2003:
Bronze - beat Guernsey 3-2 in third-place play-off
2001:
Bronze - beat Isle of Man 3-2 in third-place play-off
"I really feel we've got a chance of the gold medal, and if not, then some kind of medal," Petulla added.
"Any medal will be quite an achievement. The Scandinavian teams are going to be the the ones to watch and we need to avoid one of them if we make the semi-finals."
Petulla has only just recruited goalkeeping coach Jason Carpenter, and will let him decide which two of the four goalkeepers in his squad will make the final selection.
"He's only had one session to work with them, so I can't pick them until he sees them for a couple more sessions," said Petulla.
"I'll leave the decision down to him as he's the goalkeeping coach."
Of the full squad, 14 are drawn from St John and St Paul's, the two sides which are currently level at the top of the Jersey league.
Provisional Jersey women's football squad for 2015 Island Games:
Sara Luce (GK), Sophie Botterill, Jodie Botterill, Sylvie Spinola, Kelly Hughes, Marta Ascuncao, Jess Vieira, Fiona Mackinnon, Rosie Corbett (St John); Lauren Quemard, Candice Parsons, Eve Watson, Jemma Daniel, Catarina Andrade (all St Paul's); Catherine Overbury (GK), Michelle Bichard, Aimee Le Quelenec, Lara Couvert (all Grouville); Stephanie Henwood-Darts (GK), Libby Barnett (both Jersey Wanderers), Chantelle Audrain (GK), Holly Muirhead (both St Peter).