Fifa: Sepp Blatter ready to change, says Karl-Heinz Rummenigge

By Richard Conway
BBC Radio 5 live sports news correspondent in Stockholm
Last updated on .From the section European Football
Fifa president Sepp Blatter is "ready to change", according to the man who represents more than 200 of Europe's leading football clubs.
Karl-Heinz Rummenigge, who leads the European Club Association (ECA), says the head of football's world governing body has been stung by criticism.
The 59-year-old former West Germany international striker also believes Fifa is changing "in a good way".
Blatter, 79, is seeking a fifth consecutive term as Fifa president.
He is the favourite to triumph over three rival candidates - Luis Figo, Michael van Praag and Prince Ali of Jordan - in this year's presidential election.
"In discussions we've had I always had the impression he [Blatter] was a bit upset about the fact he is criticised by the media as a whole," Rummenigge told BBC Sport.
"He's ready to change. So I'm not so pessimistic about him. I'm quite optimistic that in Fifa things are changing in a good way."
That marks a radical change of opinion by Rummenigge given his previous call for "revolution" within Fifa's leadership.
Sepp Blatter in focus
Born 10 March 1936, Switzerland
Has a degree in business administration and economics from the University of Lausanne
Played football in the Swiss amateur league
Fifa technical director from 1975-1981 and general secretary from 1981-1998
Was elected as the eighth Fifa president on 8 June, 1998
The German, who is also chief executive of the company which controls Bayern Munich, made his latest comments after announcing significant new deals with both Fifa and Uefa that will provide European clubs with more money and a bigger say in key negotiations.
Fifa announced in March that clubs will share £142m for providing players for the 2018 and 2022 World Cups in Russia and Qatar respectively. That figure represents a trebling of the current contract.
The ECA has also reached an agreement with Uefa over Euro 2020, a tournament to be played across 13 different cities.
The new deal will see clubs share 8% of the income from broadcast rights, commercial takings, ticketing and hospitality.
A minimum payment has been set at 200m euros (£145m) - an increase of 50m euros (£36m) on the clubs' guaranteed share from Euro 2016 in France.
"I believe club football in Europe can be happy with the deals we've reached," said Rummenigge.
"We're still totally ready to support national team football and, in exchange, we're getting this kind of money and governance back, which is a huge step for the recognition of club football in Europe."
With two seats on the Uefa executive committee and a new mechanism for making his members' views heard within Fifa, Rummenigge is satisfied that the voice of the clubs - who provided 75% of players at last summer's Brazil World Cup - is being listened to.
The manner in which income is distributed amongst clubs competing in the Champions League and Europa League is also set to radically change, with a greater emphasis on solidarity payments for smaller teams.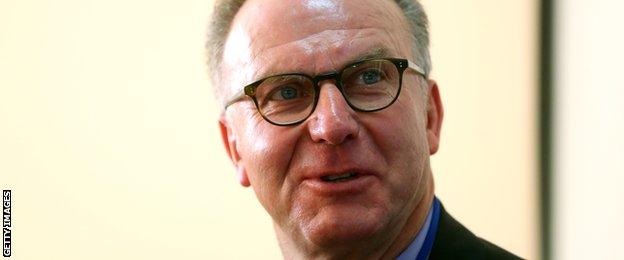 Despite the £5bn domestic TV deal struck recently by the Premier League, Rummenigge says he is not worried about English football's potential for financial domination.
The monetary gulf between England's top division and its continental rivals - which will widen further when its new three-season deal kicks in from 2016-17 - is amply demonstrated by the fact Bayern Munich received £30m for winning the Bundesliga last term while Cardiff City were awarded £62m after being relegated to the Championship.
Rummenigge now hopes the "fantastic" Premier League deal - which could surpass £8bn once sales to overseas broadcasters and online rights are concluded later this year - will spark a rise in income for other leagues, including the Bundesliga.
"I believe the English deal in the end will help us in Germany to get more money as well in the future.
"Football is, from the social point of view, from the interest in it and from the emotion, currently on the best level ever."