Scotland women ready to step up a level - Anna Signeul
Last updated on .From the section Football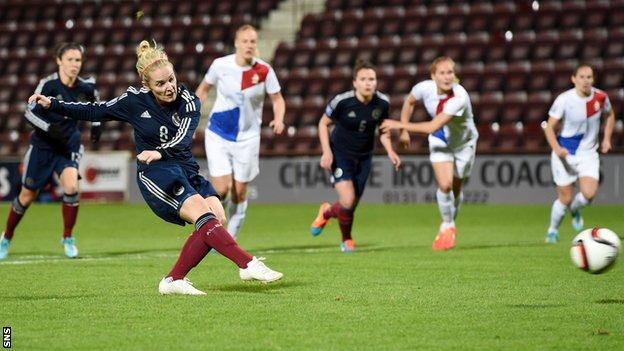 Head coach Anna Signeul says Scotland are ready to make the step up to the next level as she bids to lead them to their first major tournament.
Glasgow City recently made history by becoming the first Scottish side to make the quarter-finals of the Womens Champions League.
And Signeul hopes by employing a new system the national side can emulate City and break new ground.
"We have some great new players coming up," Signeul told BBC Scotland.
Signeul named her 21-player squad for the 9 April friendly with Australia at the Falkirk stadium, their first game since the Cyprus Cup last month where they beat South Korea and the Netherlands.
The win over the Dutch was small consolation for the 4-1 aggregate defeat to the same side in the World Cup play-off in October.
"I think we are ready to take the next step now," said Signeul. "We tried in Cyprus to play a new system. We can develop our game and take up some of our new young players.
"The step to the top level is tough and it is not going to happen immediately.
"We need to give them some experience. I think that the new system that we are playing, 4-2-3-1, gives us more play through the midfield, more angles in our game, more power from full backs in the wide areas.
"We want to play a bit different so that we are actually developing our players in that system as well."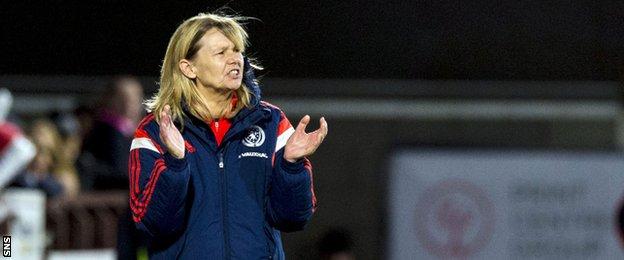 As many as 14 of the squad now play outside of Scotland, with Rachel Corsie and Kim Little plying their trade as far afield as Seattle Reign.
"That shows the success that we have had that our players are attracting all the professional market," said the Swedish-born coach.
"You always need to work on two levels. It's good for the players and the international team that they are out there in a professional environment. However, the players that are at home in our domestic environment, we have proven that we are developing players, with our pathway and our academy.
"I think it has improved immensely. I don't think many, 10 years ago, would have thought Scotland would have had a team in the Champions League quarter-final.
"When you look at where we were 10 years ago, clubs maybe trained once a week, with games postponed over the weekend. We have done a lot, it's fantastic."
Scotland will hear who they will face in the European Championship qualifiers on 13 April when the draw is made in Nyon, Switzerland.