Cheltenham Town: Gary Johnson ready to take team to 'war'
Last updated on .From the section Cheltenham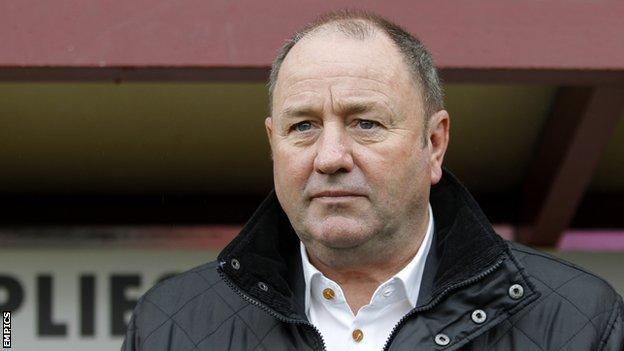 Cheltenham Town manager Gary Johnson is hoping his experience will help the League Two club escape relegation.
The Robins are currently rooted to foot of the table, two points adrift of safety with seven matches remaining.
"If you are going to war, you want to go to war with somebody who has been there and I have been there," Johnson told BBC Radio Gloucestershire.
"Cheltenham Town need to be in the Football League and I am going to do everything in my power to help them."
Having previously helped Bristol City and Yeovil survive from a similarly precarious situation, Johnson knows all about relegation battles.
After admitting he first cleared his appointment with his wife, the 59-year-old said that he has never faced as tough a task as trying to save a club with so few matches remaining and called Friday's match against York the first of "seven play-off finals".
"I had to ring my wife first because she thought we were going on holiday this week," he said.
"I have been in these sorts of situations before but normally had a lot more time than just the seven games, but I can do a crash course in it.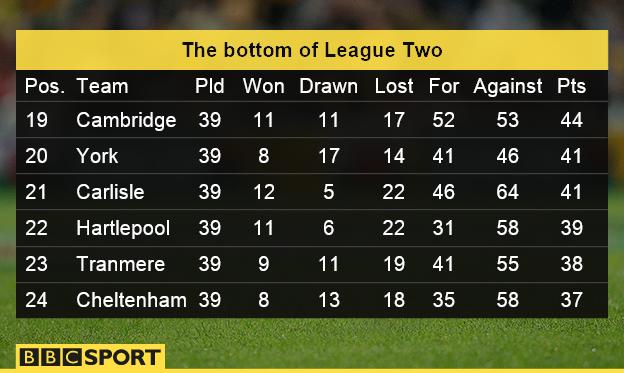 "I know there is ability here. Everyone has got to understand how important this is and they need to enter into a commitment for the next seven games, and everything they do has got to be geared towards keeping this club in the Football League."
Meanwhile, assistant coach Russell Milton insists his priorities remain firmly on helping the club avoid the drop.
Milton had been in charge of the Robins for the previous nine matches and although disappointed at not being able to see the job through, the 46-year-old believes Johnson's experience will play a key role during the run-in.
"I am a little bit disappointed but I understand the situation," Milton added. "It is a time for pride and egos to go out of the window and get the club over the line.
"I got the call on Monday and spoke with some of the board members and we just felt that a bit more experience was needed at this time, and I was more than happy to go with it.
"It is great for me to get somebody of Gary's ilk to come in. I can learn from him and between us and the rest of the staff, get the club to where it needs to be."