Hereford FC chairman Jon Hale glad to be back at Edgar Street
Last updated on .From the section Football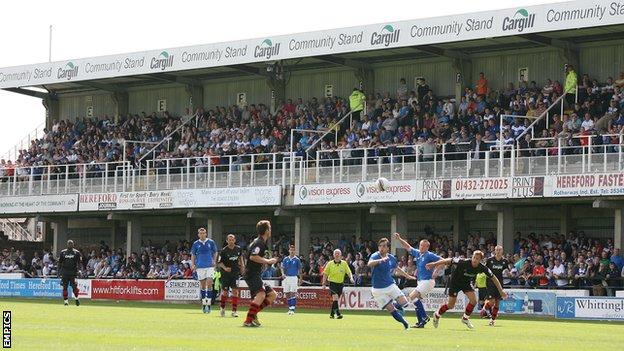 Hereford FC chairman Jon Hale feels it is a relief for the reformed club to be given the keys back to Edgar Street after it was repossessed.
Herefordshire Council agreed a lease for the ground with the consortium behind Hereford FC in February.
"It is a fantastic feeling to pick up the keys and have a look at the place," Hale told BBC Hereford and Worcester.
"It's funny being back here but it is exciting to finally be able to get the lease sorted and move on."
The site has remained untouched since the club were forced out in December, leaving the new Hereford Football Club with the job of returning the ground to a safe condition.
"The ground is technically out of bounds but once we can get a health and safety certificate we can have three sides of the ground open for the first game of the season," Hale added.
Hereford's exile from Edgar Street
The team played their final Southern League game at Edgar Street early last December before the club was evicted from the ground after it was wound up by the High Court.
"There has been a lot of pressure to get to this point in a very short space of time and there's a good team of people that worked tirelessly to get to this stage and the council have played their part as well."
The club are yet to be allocated a league to play in for the start of the season in August, but club secretary Martin Watson says securing a lease on the stadium was the most important going forward.
"There was nowhere else in Herefordshire we could go so to get inside the stadium now is a massive hurdle we have overcome," he said.
Hereford FC are now interviewing managers as they prepare to kick off their first season as a new club.
"The quality of the applications are phenomenal. Some of the people I never would have expected to applied and we have a strong field of candidates," Watson added.