Costa, De Gea, Kane? Robbie Savage picks his player of the year
Last updated on .From the section Football528

In his regular BBC Sport column, Robbie Savage reveals his Premier League player of the year and explains why he thinks his choice will pick up the prize later this month.
Voting is about to close for the Professional Footballers' Association Player of the Year award.
It was tough to narrow it down but here are the six players that I think should be on the shortlist when it is announced on 17 April.
I've also picked my winner.
My six-man shortlist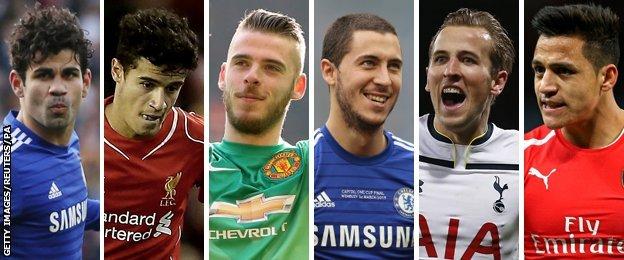 Diego Costa, Chelsea
In my first column of the season, in August, I wrote that I thought the Spain striker would be the final piece of Mourinho's title-winning jigsaw and he has proved to be exactly that.
From his goals to his aggression, he has lived up to all the expectations I had. I love watching him play.
Did you know? Costa has 19 Premier League goals from 57 shots in 23 games this season, with a shot conversion rate of 33.33%. Only Jon Walters (seven goals, 38.89%) and Papiss Cisse (11 goals, 34.38%) have a higher goals/shots ratio.
Philippe Coutinho, Liverpool
Coutinho has flourished since Liverpool switched to playing a 3-4-3 system against Manchester United on 14 December.
Playing wide in attack, he is asked to press but also allowed to come infield and find pockets of space between the opposition's defence and midfield.
| Coutinho (PL only) | Before 14 Dec | Since 14 Dec |
| --- | --- | --- |
| Games | 13/16 | 14/14 |
| Goals | 1 | 3 |
| Assists | 0 | 4 |
| Chances created | 8 | 31 |
He has used that space to score some brilliant goals in important matches against Southampton and Manchester City, and has put in some fantastic all-round performances to prove he is a big-game player.
Did you know? Coutinho has attempted more passes in the final third this term than any other Liverpool player (575).
David De Gea, Manchester United
De Gea has played in every minute of every Premier League match this season and his shot-stopping and all-round game has been magnificent.
In front of him, United's defence has changed constantly. But De Gea has held it together and is the biggest reason why only Chelsea and Southampton have shipped fewer league goals than United.
He has been United's man of the match time after time. If they finish in the top four, it will be mostly down to him.
Did you know? Of PL keepers to play a minimum of 15 games this season, De Gea ranks second in terms of his save-to-shots rate (74.29%), behind Sunderland's Costel Pantilimon (75.89%).
Eden Hazard, Chelsea
The Belgian has started every Premier League game for Chelsea this season and played in 2,566 out of a possible 2,610 minutes in that competition so far. He has been outstanding throughout.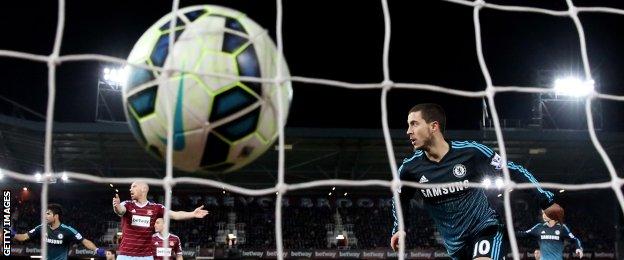 Hazard has become the perfect attacking player for his manager Jose Mourinho because he works hard tracking back too - he is in the top 20 players for total distance covered by a midfielder this season (295.9km) and runs an average of more than 10km a match.
But his heavy workload has not affected his performances and his creativity, and his constant goal threat has become more and more important to Chelsea's title bid in the last few months when some of his team-mates, like Cesc Fabregas, have seen their form dip.
Did you know? Hazard has created more goal-scoring chances this season than any other PL player (80).
Harry Kane, Tottenham
His first Premier League start or goal this season did not come until November but, the way he is going, he will end up with the Golden Boot. At the moment he is joint-top scorer with Costa.
| Kane (PL only) | Before 1 Nov | Since 1 Nov |
| --- | --- | --- |
| Starts | 0/9 | 20/21 |
| Minutes | 63/810 | 1804/1,890 |
| Goals | 0 | 19 |
Wherever I am - in the car listening to the radio, or in a TV studio - when I hear that Spurs have scored, then I just know it is Kane who has found the net.
Did you know? Kane has scored more goals in all club competitions this season (29) than any other player in England's top four tiers.
Alexis Sanchez, Arsenal
The Chilean has faded since the turn of the year and is the player on this list I am least sure about.
| Sanchez (PL only) | Before 1 Jan | Since 1 Jan |
| --- | --- | --- |
| Starts | 17/19 | 9/11 |
| Goals | 10 | 3 |
| Mins per goal | 149.7 | 244.7 |
| Assists | 6 | 1 |
But he has still had an impressive first season in the Premier League and the reason he has lost his sparkle recently is because he looks tired, rather than because he has been found out.
Did you know? Sanchez has had a hand in 29 goals in all competitions for Arsenal this season (19 goals, 10 assists); eight more than anyone else.
And the winner is....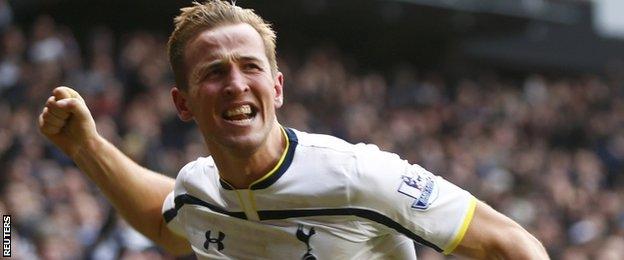 Harry Kane
If I still had a vote I would have to give it to Kane. He has come from nowhere to have an amazing season, which keeps getting better - as his goal after 79 seconds of his England debut showed.
As well as all of his goals and the way he has got them, there are two big reasons why Kane deserves the award.
Firstly, his impact as one individual on his team is more than any other player on my shortlist and comparable to what Luis Suarez did for Liverpool last season.
Kane's goals have won more points than anyone else in the top flight, and 41% of Tottenham's total.
| 2014-15 | Goals | Points won |
| --- | --- | --- |
| 1. Harry Kane (Tottenham) | 19 | 22 |
| 2. Christian Eriksen (Tottenham) | 9 | 13 |
| =3. Alexis Sanchez (Arsenal) | 13 | 11 |
| =3. Papiss Cisse (Newcastle) | 11 | 11 |
| 5. Charlie Austin (QPR) | 15 | 10 |
| =6. Eden Hazard (Chelsea) | 11 | 9 |
| *=11. Diego Costa (Chelsea) | 19 | 8 |
Also, he is not playing in a team of superstars who are creating chance after chance for him, like Costa at Chelsea for example. Again, like Suarez, he is able to score goals on his own.
The difference is that we already knew that the Uruguayan was a huge talent, but he took it to another level.
With Kane no-one could have predicted what he has done. To even get the chance in the Premier League he had to earn his place in the Spurs team with his displays in the Europa League.
Will he win the award? I think so. All the players have been voting this week and his brilliant form will be fresh in their minds.
Will Kane be young player too?
In the past I think Kane would definitely be voted Young Player of the Year, which is for players who are aged 23 or under at the start of the season.
But this year, he is not the only player looking to do the double for the first time since Gareth Bale in 2012-13.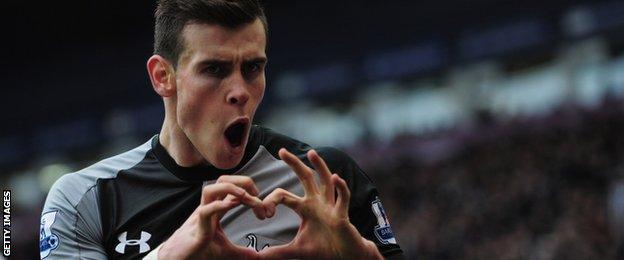 From my shortlist for the main award, Coutinho, De Gea and Hazard are also young enough to figure in both categories.
I would add Southampton defender Nathaniel Clyne and West Brom striker Saido Berahino to my list of candidates, and you cannot discount Liverpool's Raheem Sterling either, although he has not had the impact he did last season.
Kane obviously gets my vote to win the Young Player award too, though.
Cleaning up
Aston Villa's Andy Gray (1976-77), Manchester United's Cristiano Ronaldo (2006-07) and Tottenham's Gareth Bale (2012-13) are the only players to win both the PFA Player's Player of the Year and Young Player of the Year awards in the same season since they were first presented in 1973-74.
I can understand why people are so excited about his potential but the big thing for him now is that he has to produce the same form next season. He has set his standards so high.
You only have to look at what happened to last year's Young Player contenders to see why that will not be easy.
Hazard won the award and has had another great season but Daniel Sturridge, Luke Shaw and Ross Barkley were also on the PFA shortlist for 2013-14.
All three have been held back by injuries this campaign, and have not hit the heights they did previously.
Even if Kane stays fit, keeping up his scoring rate will be a huge task, but his feats over the last few months deserve to be recognised, and I hope they are.
Robbie Savage was speaking to BBC Sport's Chris Bevan