How will Qatar build a good team for the 2022 World Cup?
Last updated on .From the section Football
Fifa's decision to award the 2022 World Cup to the tiny Gulf state of Qatar has caused controversy since the moment it was announced.
There have been rows about the voting, venues and the climate but not much has been mentioned about the team.
So will Qatar be able to produce a team that can make the country proud when the eyes of the world are upon them in seven years' time?
What is Qatar's football pedigree?
The Qatar national football team was only formed in 1970 and is currently ranked outside Fifa's top 100.
They have never qualified for a World Cup and have only come close once - losing at home to Saudi Arabia in the final game of qualifying for France 98 when a victory would have taken them there.
The campaign to reach Brazil last year was just as disappointing, with five wins from 14 games, and the team struggled at this year's Asian Cup, losing all three of their group games.
They would not be the first nation to be given the World Cup despite having never qualified for the tournament.
Japan had never previously qualified when it was named as co-host along with South Korea for the 2002 tournament in 1996. They subsequently qualified for France 98 and have not missed a World Cup since.
With less than 300,000 citizens, the talent pool is not deep in Qatar but the general secretary of their football association is confident giant strides are being made.
"I believe we are in a development phase of the national team right now," Mansour Mohammed Al Ansari told BBC Sport.
"We have been through an interesting time in the last year and a half when we've seen some changes within the national team."
Will they rely on importing foreign players?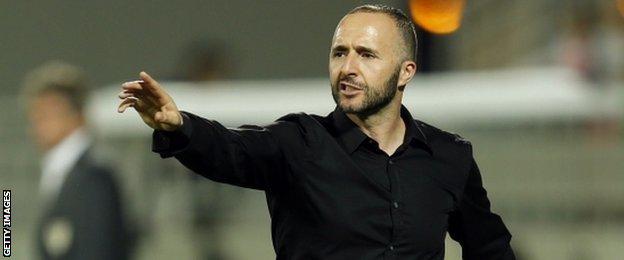 Former Algeria international Djamel Belmadi took over as coach of Qatar B in 2013 and the senior team the following year.
There has been early success for Belmadi, with Qatar winning the 2014 West Asian Cup after a 2-0 final victory over Jordan in Doha.
Included in the victorious team were Karim Boudiaf, who is of Algerian-Moroccan descent, and Boualem Khoukhi, who is of Algerian descent and scored both goals in the victory against Jordan. Both have taken Qatari citizenship.
Khoukhi has scored eight goals in 14 appearances for Qatar and is regarded as their best player, while Ghanaian-born Mohammed Muntari, another to have taken Qatar citizenship, made his debut for Qatar in December 2014, scoring on his debut in a match against Estonia.
Looking at the team sheet for their recent friendly against Algeria, six of the starting XI were not born in Qatar - and the process of awarding citizenship to players born outside the country has been a concern to many, including Fifa president Sepp Blatter.
It is not just football in which the Gulf state imports talent. Perhaps the most high-profile case is Stephen Cherono.
The Kenyan changed allegiances and his name to Saif Saaeed Shaheen. He won gold at the 2003 and 2005 World Championships for his adopted nation and currently holds the world record for the 3,000m steeplechase.
But Mansour Mohammed Al Ansari told BBC Sport: "I think the percentage is exaggerated on the amount of foreign football players.
"To us they are all Qatari players and we are obliged by all Fifa regulations. All of our players have the right to represent our team, whether they were born here or parents were born here or they played in our league from the age of 18 for five years. It's not really a strategy of having international players."
How good is the current team?
Qatar, 54th in the Fifa rankings back in 1993, are currently 109th, but 2014 was arguably the country's most successful year and some are thinking about the possibility of reaching the next World Cup in Russia.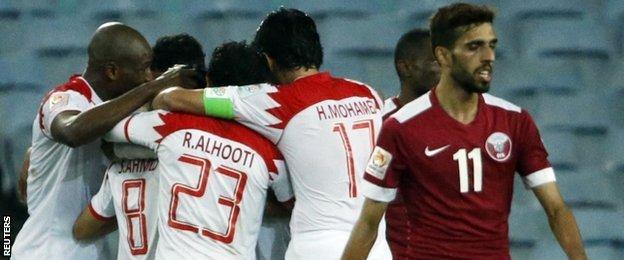 In 2014 they also won the Gulf Cup of Nations, defeating Saudi Arabia in the final in Riyadh. It was the first time Qatar had won the tournament outside of its own country.
Disappointment did follow in the Asian Cup, in Australia in January 2015, where they lost all three games and scored only two goals.
Home comforts
The current team are all based in Qatar, where football is the most popular sport. They all play in the Qatar Stars League, which was formed in 1963 and consist of 14 teams. Lekhwiya SC, coached by Michael Laudrup, are the current champions.
"The Asian Cup was a setback but we can show we are getting better," left-back Khalid Muftah told the BBC. "We are improving day by day, we can go forward and we hope we can make it and show the people who we are."
Back-to-back 1-0 home wins over Algeria and Slovenia in recent friendlies seem to back up that statement.
What do they hope to achieve in 2022?
The dream is for Qatar to qualify for the 2018 World Cup but that will not be easy, with a maximum of five places available to the 46 teams that started Asian qualifying.
The more realistic aspiration is 2022. To get a team the country can be proud of is the number one priority - and this means focusing on Qatar's youth teams.
The QFA is concentrating most of its efforts on the Under-20s and Under-17s, with the aspiration that players from these sides will make up the backbone of the 2022 team.
The Aspire academy - a sprawling, spare-no-expense, space-age facility - was set up in 2004 with the explicit aim of producing top-class athletes in a range of sports.
All the football coaches are foreigners, mostly from top European footballing nations, while the director of the academy is former Real Sociedad player and youth coach Roberto Olabe, was the football director of the Spanish league between 2007 and 2009.
A Qatar team led by former Barcelona youth coach Felix Sanchez will compete at the Under-20 World Cup in New Zealand later this year. He has worked at Aspire for eight years and hopes the experience of playing against the best in the world will give the young Qataris the focus they need.
"I think for all of us, it is a big success," said Sanchez of qualifying for New Zealand. "We are proud this generation of players, some of whom have been here for the last eight years, have achieved this for the country."
Gaining more exposure
Playing more high-profile games is high on the list of priorities.
"It's a necessity. You can't take someone who hasn't played in big tournaments and then throw them into a World Cup and have them compete in the way you want them too," added Mansour Mohammed Al Ansari.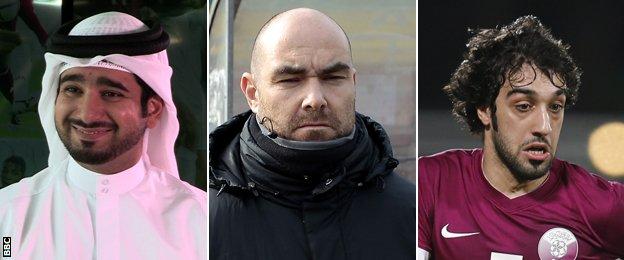 "It's nerve wracking to be under the spotlight and have all those fans cheering for you, whether with you or against you. There will be a huge psychological pressure on anyone who'll be in that situation.
"They won't be able to perform the way you want them to. So the idea is the more experience they have the better they will compete. We want to mentally condition our players to be prepared for that."
Qatar will host the Under-23 Asian Cup finals next year. The tournament will also act as the qualification process for the Olympics. More high-profile friendlies are also being planned to get as much experience against top quality opposition as possible.
But despite the high level of investment and appetite to succeed, the key men preparing for the tournament are aware of a potential pitfall.
With Qatar's small population, there is a good chance that anyone in the current national youth teams will play in the 2022 World Cup. Will motivation or complacency be a problem?
"They know the World Cup will be here but it doesn't mean they will play," added Sanchez.
"There are a lot of players who want to play - if they want to get in the squad they will have to make an effort, sacrifices and work hard."
Mansour Mohammed Al Ansari puts it like this: "To keep them passionate and fighting for Qatar is a challenge that exists but so far they have tasted how it feels to represent Qatar and to win so I hope that continues and I believe it will.
"It's any Qatari's dream to represent their country in one of the biggest and most prestigious events in the world."
The stadiums in Qatar are on time and on budget. The deadline to get a football team ready for 2022 may be much harder to meet.