Football agent rule changes 'could leave young players exploited'
Last updated on .From the section Football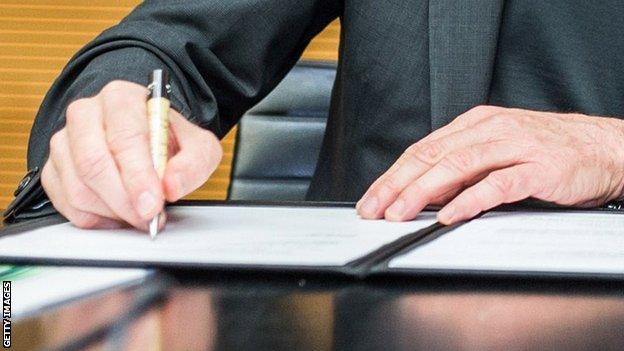 Young players could be at risk of "exploitation" because of changes to football agents' rules, according to agent David Seligman.
Fifa's global licensing system for agents was ended on 1 April and it is now supervised in individual countries.
The deregulation means someone with an "impeccable reputation" can now pay £500 to register with the Football Association as an 'intermediary'.
"The obvious problem would be exploitation," Seligman told BBC Sport.
"If you're a 16- or 17-year-old lad and you've got two people trying to sign you, are you going to sign with the middle-aged lawyer, who knows the rules and regulations inside out and will negotiate a deal properly? Or are you going to sign with the guy who doesn't know the rules and regulations but will take you out clubbing, buy the watches and drive the nice cars?"
World football governing body Fifa argues the new system will be more transparent - given only 25-30% of international transfers are concluded by licensed agents.
Professional Footballers' Association chairman Gordon Taylor says it may help make transfer fees clearer.
Mel Stein, chairman of the Association of Football Agents says deregulation will lead to a "Wild West" of agents and "create anarchy".
Seligman, who works for Carter Moore Solicitors and represents several Football League players, added: "A player could end up signing with someone who isn't insured and will not be qualified for several years.
"Those sort of guys are going to be going out and representing players without having the necessary skill or qualification to do so. It could cause problems down the line."
Prospective agents used to have to pass an exam featuring questions on contract legalities, immigration rules and registration laws - and also had to pay a bond for insurance purposes.
But the deregulation from world football's governing body Fifa means that qualification is no longer required.
Mel Stein, chairman of the Association of Football Agents, is appealing against the change of rules and told The Guardian he thinks it is wrong that "a bloke in the pub" could now offer to represent players.
"Fifa couldn't cope so they decided to hand it over to the individual territories," he said.
"I can see the bloke in the pub who knows a parent or a footballer's dad saying 'I'll represent you' and then undercutting everyone."
Football players' union chief Taylor said: "I suppose there's an attempt there to increase transparency but you just wonder how difficult it will be to keep track of. But there is need for transparency in transfer fees - if this leads to more of that then good."