Brazilian club suspend player after rant at his own fans
Last updated on .From the section Football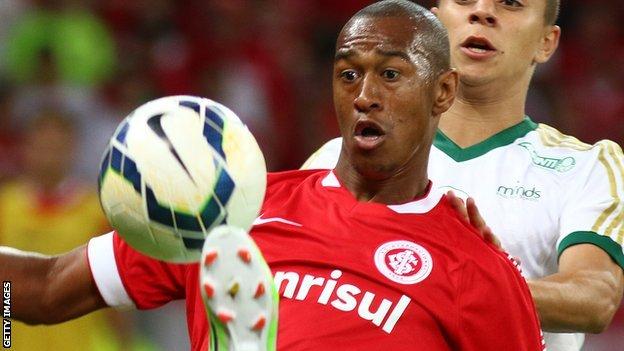 A Brazilian First Division club have suspended a player who made obscene hand gestures to his own team's fans and ripped his shirt off during a game.
Internacional defender Fabricio, 28, threw the shirt to the ground after being dismissed in the second half for reacting to jeers from the crowd.
Former Manchester United midfielder Anderson was sent off in the same game.
Club president Vitorio Piffero said: "Internacional's jersey is sacred, he lacked respect for the club."
A decision on Fabricio's future at the club will be made on Monday.
Internacional beat Ypiranga 1-0 in the Rio Grande do Sul state match, and had Anderson sent off in the first half for clashing with Otacilio Neto, who was also sent off.
After the break, Fabricio had the ball at his feet before suddenly giving it away to a team-mate and walking towards the sidelines to stick his middle fingers up to the home crowd, who had been booing him nearly every time he touched the ball.
The 13,000 fans at the Beira-Rio Stadium loudly cheered when the referee sent him off.
Coach Diego Aguirre said: "It was very sad and ugly, something like that shouldn't happen."
Fabricio has had a history of problems because of his temper and had already made headlines for arguing with coaches, team-mates and referees during matches and training.