Chris Hargreaves: No experimenting for Torquay United
By Brent Pilnick
BBC Sport
Last updated on .From the section Torquay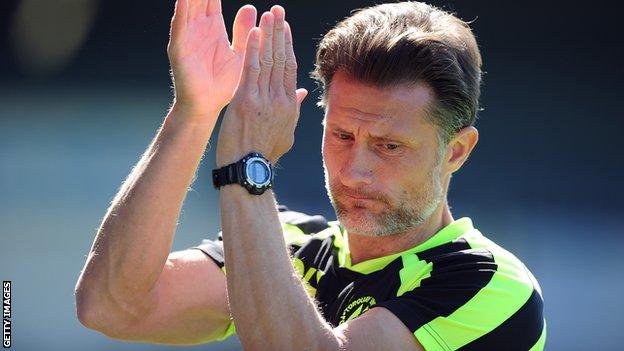 Torquay boss Chris Hargreaves will not experiment with his side, despite being unable to reach the play-offs.
The Gulls, who are 16th in the Conference, still need two more wins to be sure of not being relegated.
"The last couple of games maybe you have a look, but at the moment you still play your best team," he said.
"There are so many players playing for their contracts and for their futures, whether it's at Torquay or not, it's still a really important time for us."
Despite not experimenting in the final six games of the season, Hargreaves says he has made his mind up about who he will keep at the club and who will leave come the summer.
"I've made the decisions in my mind," he told BBC Sport.
"That's not saying that if someone comes in and scores 12 goals in six games I'll sit them down and say 'look you've not performed', but realistically I know in my mind what I want to build and who I see in my plans.
"To that end, I pick a team and players might have a perception of whether they're staying or not staying, but it's professional football and that's the word, 'professional'.
"A player who plays at any club in this country, whether they know they're being kept or not, they give everything for the shirt. They do it for the pride they do it for the shirt and they do it because they're being paid."