Sophie Barker has WSL point to prove with Doncaster Belles
Last updated on .From the section Women's Football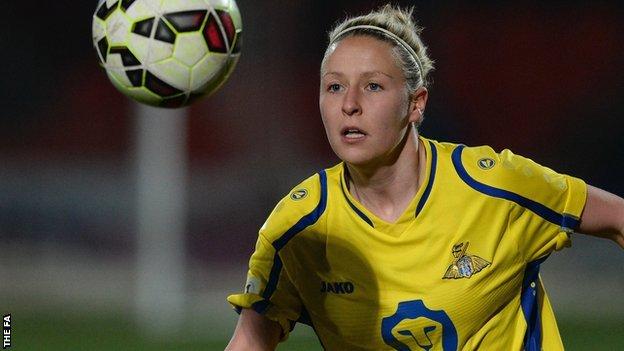 Sophie Barker has embraced the pressure of trying to get Doncaster promoted, having previously struggled with nerves in the Women's Super League.
The midfielder found chances limited with Notts County last term after returning from a ruptured Achilles.
"I've not soaked up that pressure before," said Barker, 24. "I think it's time I stopped worrying about it.
"I know I'm good enough to be at this level - I just need to prove it. Promotion is one big way to do it."
Barker continued: "These guys missed out last season, and now if I bring what I know I can bring, we will hopefully be promoted.
"I just want to play back at that level again. It is the best level you can be at and some of the girls I play with now at Doncaster deserve to be there."
Barker was quick to make an impression on the Belles, hitting the crossbar before setting up their second goal in a 3-0 Women's Super League season-opening win over Durham.
She was then used in defence against Manchester City in the fifth round of the FA Cup and featured again in the win over Yeovil.
The versatile midfielder started her career with Lincoln Ladies and relocated to Meadow Lane with the rebranded club last season.
Barker, who works as an Football Association skills coach in Lincoln, admitted she struggled to cope as she tried to re-establish herself in the first team.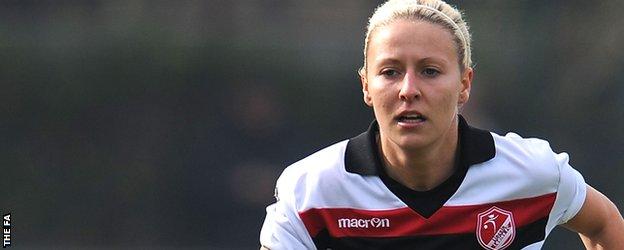 She even contemplated retiring from playing before being convinced to join Sheffield FC in England's third-tier competition.
"It was what I needed because I lost the love for football," Barker said. "I worked so hard to get into the Notts County team and it wasn't there for me.
"There was no pressure at Sheffield compared to the top level, where there is constant pressure to do well all the time. When you have that ball at your feet, you do not want to give it away and that used to make me so nervous.
"I just didn't want to play any more and literally stopped. I ended up taking a step down and just realised I could do this."
She quickly rediscovered her passion for the game with Sheffield and was reunited with former Lady Imps boss Glen Harris at WSL 2 side Doncaster in January.
"I've known Sophie since she was knee high and she was the first person I contacted when I got the job," Harris said.
"She has a hunger. That is what we have signed - girls who still have something to prove and want to show they can play at a higher level."
Doncaster are away for the first time in the league on Sunday as they take on Aston Villa at Sutton Coldfield.