Rangers: 'Legal action would target Dave King' - Sandy Easdale
Last updated on .From the section Rangers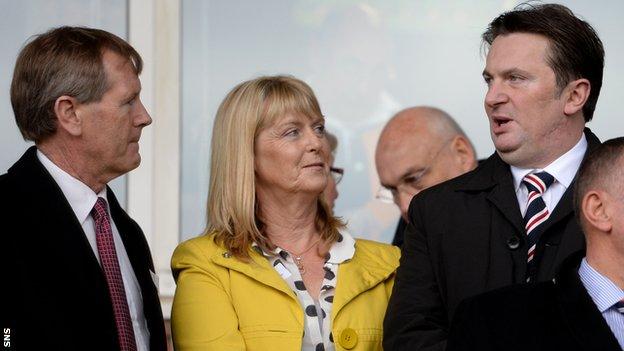 Sandy Easdale says "individuals rather than the club" would be targeted if angry Rangers shareholders decide to pursue their threat of legal action.
"That would be against individuals who misled the shareholders as we would see it," Easdale said of possible action.
Major shareholder Dave King and interim chairman Paul Murray would be targeted.
"We have no appetite for taking legal action against Rangers as a club," stressed Easdale.
Rangers International Football Club plc has blamed the former regime, which Easdale was a part, for being forced to delist from the market.
It says that it was unable to appoint a required new nominated adviser because AIM was unhappy at the behaviour of the board voted out at an extraordinary meeting in March.
But Easdale claims that the previous nomad would have still been in place had the new board not insisted that King, who has convictions for contravening South African tax laws, would eventually be appointed a director.

"The previous board had a nomad and were listed and the listing was under jeopardy when the requisitioners requested to remove the current regime and this is why WH Ireland resigned," he told BBC Scotland.
"They were given several options to keep the listing but decided to move forward with Dave heading it up."
Easdale - whose brother, James, was one of the ousted RIFC directors - insisted he had been "quite excited" by the promises made by King's group and that the delisting "came as a bit of a shock".
"I think this is a bit of a blow for the shareholders," said the bus company owner who represents a group holding about 20% of Rangers shares.
"We were told on several occasions that they had a nomad and the listing would be secure.
"We were quite willing to let the new board build the club, but we thought that the club would still be listed on AIM.
"Our consortium thinks that this move would undervalue the sales that were purchased at certain prices."
However, on the day the new board was appointed, King stressed that he could only at that point start official negotiations with the prospective new nomad as only "off-the-record" discussions had been permitted beforehand.
King also stressed that, although he would attempt to keep the shares on AIM, his own "personal preference" was that the company should not be listed.
Responding to the news of the delisting, interim chairman Murray said: "It was clear that we would have to pay a price for years of poor corporate governance and financial mismanagement.
"Be certain that this delisting, which is down entirely to the actions of previous boards, will have no bearing on future investment."