Robin van Persie: Man Utd striker to miss Manchester derby
Last updated on .From the section Football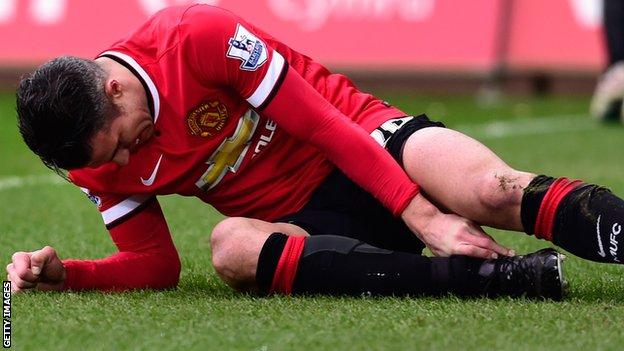 Robin van Persie is not expected to be fit in time to feature in this month's Manchester derby, his manager Louis van Gaal has confirmed.
The Manchester United striker, 31, has missed the last five games after injuring his ankle in the defeat at Swansea City in February.
The Dutchman was already ruled out of Saturday's game against Aston Villa.
Asked if he was likely to be ready to face Manchester City on 12 April, Van Gaal said: "I don't think so."
The United manager added: "The process has to give me signals he is ready for that but I know that from my experience it is not like that."
If results fall United's way, they could be up to second place by teatime on Saturday, with City not in action until they play Crystal Palace on Monday.
Asked whether second was a realistic target for United, Van Gaal said: "Of course. I cannot deny that because we have Manchester City at home.
"We have the strongest record at home at home so it's possible, but Manchester City is a top team so it shall not be easy."