Raheem Sterling not good enough for big move, says Phil Neville
Last updated on .From the section Football
Raheem Sterling would struggle to get into another top Premier League side if he left Liverpool, says BBC Match of the Day pundit Phil Neville.
"I don't think he would get into Chelsea's team with Diego Costa there," said former England defender Neville.
"Would he make Manchester City's team with Sergio Aguero there? Manchester United with Wayne Rooney there?"
England international Sterling, who played in the Reds' 4-1 Premier League defeat at Arsenal on Saturday, said he was not motivated by money, but by a desire to win trophies.
But Neville, who won six Premier League titles with Manchester United, was critical of the player and his advisers.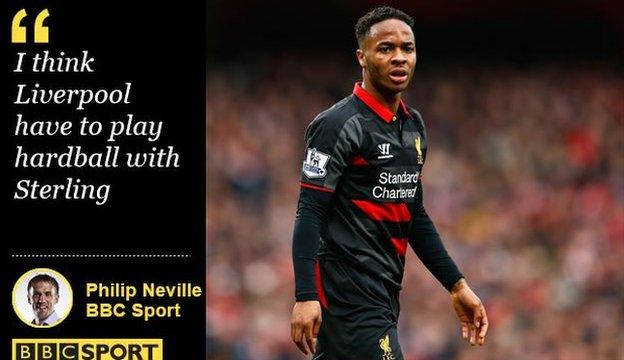 "It has been horrifically mismanaged - not just this week," said Neville.
"I was reading about this last April. This is a 20-year-old who should just be concentrating on playing football."
Former Manchester United and Everton midfielder Neville suggested that Sterling needs to "take ownership of his career".
He said: "I think Liverpool have to play hardball with Sterling. As for Sterling, it is fine having agents, but at some point you have to take ownership of your own career and say: 'I want to sign a contract. I am at the right club at the right time.'
"At the moment, he is at the best club who are helping him to develop and giving him a platform to play. They have stood by him and given him a good contract. He has 27 months left on that contract.
"In two years, if he wants to play with Real Madrid and his career goes in the right direction, he will still be able to do that. But at the moment he should get on with playing football."
Liverpool is the best place for him - Rodgers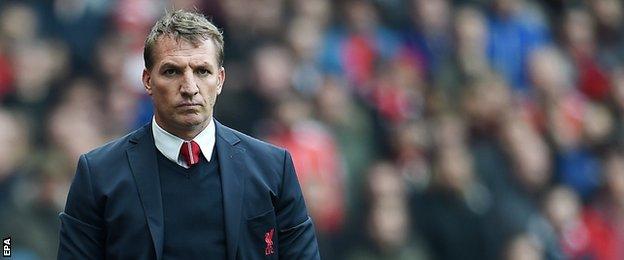 Liverpool manager Brendan Rodgers told a news conference on Thursday that Sterling, whose current contract runs until 2017, would not be sold this summer.
He complimented the 20-year-old's performance in the defeat at Arsenal, adding that he would benefit from staying at Anfield.
"I thought Raheem was excellent," said Rodgers. "Our best player. Anyone can see that as far as his football development is concerned, Liverpool is the best place for him. There is absolutely no question about that.
"We have improved his game tactically. He has become more tactically aware, technically improved and he has had the opportunity to play.
"He has two-and-a-half years on his contract and he won't be going anywhere this summer. We will sit down again with the club and his representatives to find a solution in the summer.
"I have had a good chat with him and given him my opinion. This is a young kid who is being advised to do something else. He just wants to play football. I think he enjoys playing for Liverpool. He knows he is privileged to play in front of Liverpool's supporters."
'Sterling stands out on dismal day'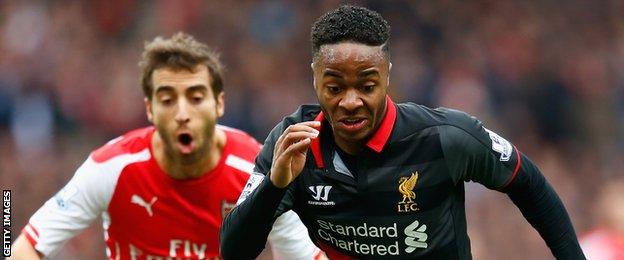 BBC Sport chief football writer Phil McNulty felt Sterling could be pleased with his own performance even though Liverpool were well beaten.
"The future of Raheem Sterling is still the only Liverpool story in town despite being played out against the backdrop of a heavy defeat at Arsenal that seriously damages their Champions League hopes," explained McNulty.
"Rodgers was downbeat as he admitted Liverpool now face a struggle to finish in the top four but was positive and defiant when questioned about Sterling. He repeated he would not be sold this summer and insisted once more, at length, that Anfield is the best place for him.
"Sterling was arguably Liverpool's best player on a dismal day, starting centrally before moving to the left at the start of the second half. He chased everything, took some heavy knocks from Laurent Koscielny and Hector Bellerin, winning Liverpool's penalty.
"There was no discernible reaction from the travelling Liverpool fans, good or bad. Sterling may just have been the least of their worries after such a poor and damaging performance."
'It must have affected the team'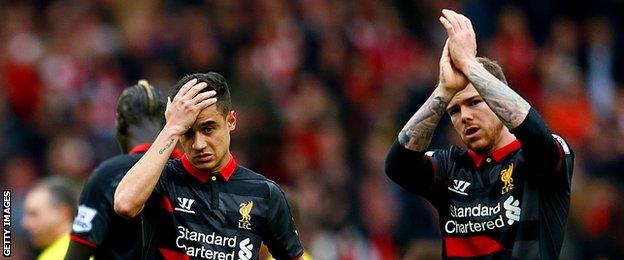 Sterling's performance against Arsenal won compliments, but the speculation over his future did not help the team's display as a whole, according to former Liverpool defender Stephane Henchoz.
The retired Switzerland international told BBC Sportsworld: "I think the story with Raheem Sterling during the week must have had an effect on the team.
"It's a big story now and when you're a player even if you say you don't really care what is happening or is in the papers, then you do really.
"Knowing that maybe Liverpool are going to lose a player such as Raheem Sterling in a few months does make an impact when you prepare a game like today's against Arsenal."
'Sterling's been badly advised'
Former England captain Alan Shearer believes that Sterling's situation raises significant questions about the player's advisers, of Rodgers and of the club's contract policy.
Speaking during Saturday's Match of the Day on BBC One, Shearer said: "Firstly, it's incredibly bad advice to give to a 20-year-old to say: 'Go on TV and say that it's not about the money, but then admit that you've turned down £100,000 a week.' It alienates the fans.
"Secondly, the situation has been compounded by Brendan Rodgers saying that he's the best young player in Europe.
"With the TV deal coming in, his agents will sit back and say: 'Well, make him the best-paid young player in Europe.'
"And thirdly, it raises questions about the contract policy at Anfield. Steven Gerrard said that if he'd been offered a contract earlier, he would have signed.
"Sterling has said the same this week, and Jordan Henderson's got one year left on his contract."
What the papers said
Saturday's back pages were dominated by discussion of Sterling's future.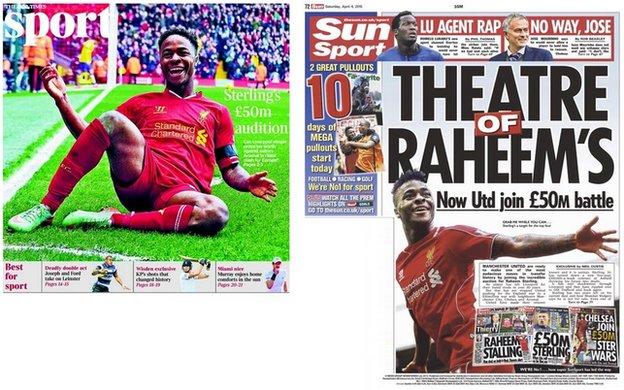 Saturday's match against Arsenal was an opportunity to prove his value - and impress interested clubs - according to the Times, while the Sun reported that Manchester United have been considering a £50m offer.
The Daily Express, along with several other papers, confirmed in advance that Sterling would face Arsenal on Saturday, adding that the Gunners were keeping an eye on Sterling's contract situation, along with Chelsea, Manchester City and Manchester United.
In the Guardian, manager Brendan Rodgers said that Liverpool now find it more more difficult to retain their best players than they did in the past. "The challenges Liverpool face now are far greater than they were 20 years ago," he said. "The challenges are huge."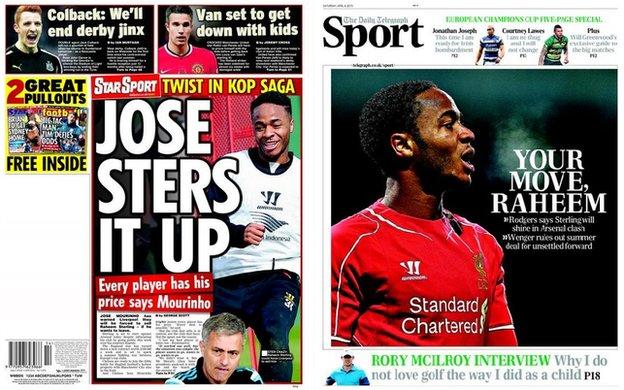 The Daily Star, along with the Independent, reported Chelsea boss Jose Mourinho's claim that Liverpool may have to sell Sterling if they get a big enough offer.
However, the Daily Telegraph led with Arsenal manager Arsene Wenger's decision not to make an attempt to sign the forward this summer.