Brendan Rodgers: Liverpool boss says top four key for new players
Last updated on .From the section Football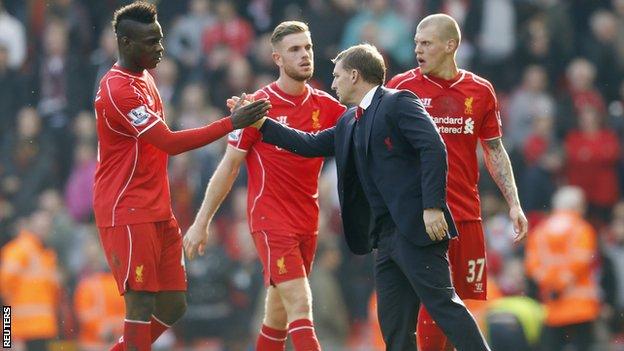 Liverpool boss Brendan Rodgers admits failure to qualify for the Champions League will make it more difficult to attract top quality signings.
A 4-1 defeat at Arsenal on Saturday left Liverpool in fifth place, seven points behind fourth-placed Manchester City, who have a game in hand.
"Liverpool is a phenomenal club players want to play for, but players want to play at the top level," said Rodgers.
"If you are not in the Champions League it makes it difficult for you."
Liverpool's remaining Premier League fixtures
13 April:
Newcastle
(home)
18 April:
Hull
(away)
25 April:
West Brom
(away)
2 May:
QPR
(home)
10 May:
Chelsea
(away)
16 May:
Crystal Palace
(home)
24 May:
Stoke
(away)
Liverpool were five points clear at the top of the Premier League with three games remaining last season, before losing at home to Chelsea and squandering a three-goal advantage to draw 3-3 at Crystal Palace.
Second place was enough to earn a return to the Champions League this term, but they failed to progress beyond the group stage and were placed in the last 32 of the Europa League, where they lost on penalties to Besiktas.
Their last remaining hope of silverware this season is the FA Cup, with a quarter-final replay against Blackburn at Ewood Park on Wednesday and Aston Villa awaiting the winners in the last four at Wembley on 19 April.
"We always felt this year was going to be difficult, that was the reality of it," added Rodgers.
"Our run last year nearly brought us the title. We lost a world-class player [Luis Suarez, who was sold to Barcelona] and lots of other developments happened within the club.
"But it is frustrating that we got ourselves in a position over the last three months, very close, to then come up short in the past two games.
"However, I look at Arsenal and their bench, the world-class players on the field with big talent and it shows the continual work we have to do."