Blackpool relegated from Championship to League One
Last updated on .From the section Football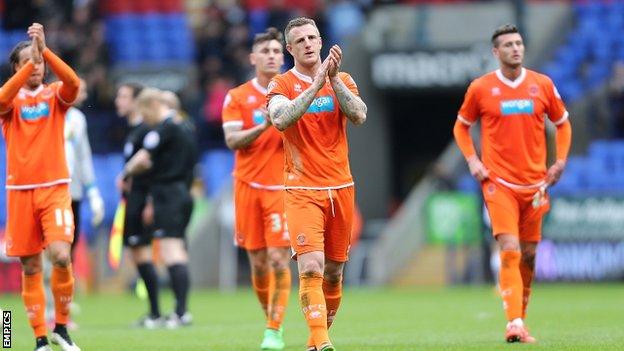 Blackpool were relegated from the Championship with six games still to play as Rotherham United beat Brighton 1-0.
It ends a four-season stay in the Championship after they were relegated from the Premier League in 2011.
And it will be their first season in the third tier since 2007.
Blackpool have been at the bottom of the table since October and have won only four games this season.
They are the first team in 2014-15 to be relegated in the top four divisions in English football.
'We have to learn lessons from this'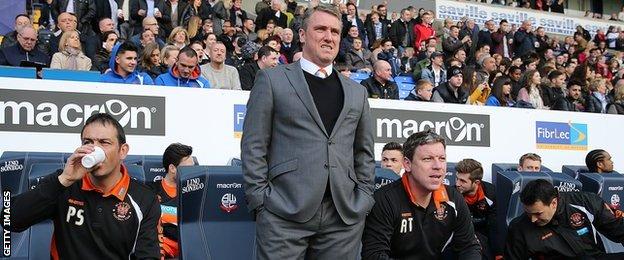 Clark took charge at the end of October after the sacking of Jose Riga. The former Charlton boss had lost the first five matches of the season after his first team was reduced to eight players a month prior to their opening match against Nottingham Forest.
"All that has gone wrong this season has to be used in a way that ensures it never happens again," said Clark.
"We knew it was a case of if and when but it still hurts. It's been a really difficult season and we're now waiting for 3 May to get the rebuild fully under way.
"We'll look to put together a squad that is worthy of this club. We need to bounce back to the Championship and become a competitive team once more."
Blackpool's season of misery
Still need two points to reach 26, the lowest tally in second-tier history when there have been 24 teams competing
Conceded 79 goals this season, more than any other side in England's top four tiers and, at 1.98 per game, also the highest average
Only side in the top four tiers yet to win a league match away from home this season
Have used 50 different players in the Championship this season, eight more than any other side
'The club has lost its soul'
Fans have protested all season about how the club is run, with owner Owen Oyston and son Karl the target of their anger.
The breakdown of the relationship was highlighted when, in March, Karl Oyston was charged by the Football Association in an ongoing investigation over allegations he sent abusive text messages to a fan.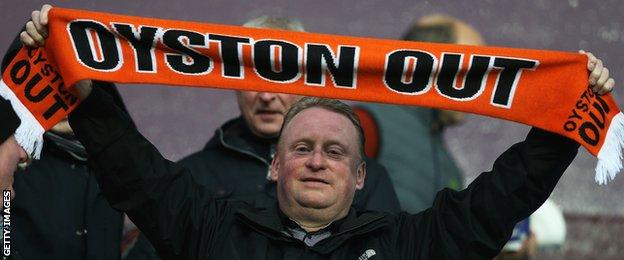 Kevin Boroduvicz, secretary of Blackpool Supporters' Trust, told BBC Radio 5 live: "The rift has carried on for several seasons and it's one of the very worst things about being a fan.
"We just want to go and see a team which we are proud of that represents a town and helps out in the community. That's been taken from us and it's extremely sad.
"Something much worse than relegation has happened to Blackpool Football Club - it's lost its soul. It's lost what makes it a football club."
'We could miss some great derbies'
Former England international Jimmy Armfield spent his entire playing career at Blackpool, making 569 appearances between 1954 and 1971.
He acknowledged that relegation was not a surprise but is wary about the prospect of a season in League One.
"This is not good for us," he told BBC Radio 5 live.
"You've got teams like Bolton and Blackburn in the Championship and, if Preston or Fleetwood came up and Burnley came down, you would have a pocket of Lancashire clubs and we'd miss out on those derbies."
Another favourite of the Blackpool fans, Stoke midfielder Charlie Adam, tweeted his sympathies...