Liverpool must spend more to win the league, says Ray Houghton
Last updated on .From the section Football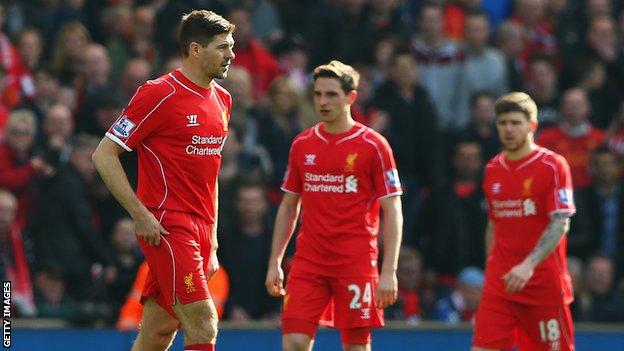 Liverpool need to break their wage structure if they are to win the Premier League, according to former player Ray Houghton.
Houghton says the club cannot compete with the Premier League's top spenders.
The 53-year-old told BBC World Service: "The owners are going to have to try and do something about it. Whether they are willing to, only time will tell."
Liverpool are seven points adrift of the Champions League places after damaging back-to-back defeats by Manchester United and Arsenal.
Former Republic of Ireland international Houghton said: "Liverpool are not in that area when it comes to actually spending and paying out on wages. They can only bring in a certain calibre of player.
"That may have to change if they are going to really be competitive to win the league and be competitive once they get back into the Champions League."
Liverpool sold top scorer Luis Suarez to Barcelona in the summer for £75m, while their most expensive signing in the summer transfer window was Adam Lallana from Southampton for £25m.
Manchester United, meanwhile, signed Angel Di Maria for a British record £59.7m, Arsenal bought Alexis Sanchez for £35m and Chelsea spent £32m on striker Diego Costa.
Houghton added: "I don't think Liverpool can compete with Manchester City, Chelsea and Manchester United when it comes to paying wages.
"You look at some of the players at their clubs reputedly on £250,000 to £300,000 a week.
"Liverpool can't pay that. I think that the highest-paid player is Daniel Sturridge and I heard that figure is about £150,000 a week."