Leeds United: Neil Redfearn to stay in charge until end of season
Last updated on .From the section Football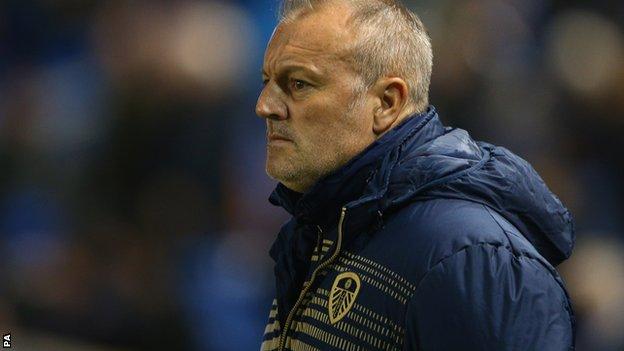 Leeds manager Neil Redfearn says he will remain in charge at least until the end of the season.
Redfearn says Leeds are legally obliged to let him know before the final game of the season whether they intend to keep him in the role.
"We will have to cross that bridge when we come to it," he said.
"My position has got to be resolved one way or another legally, I think, before the Rotherham game. They have to tell me either way whether they will take up the option of a second year.
"I want to do the best thing for this football club, like Steve Thompson did when he was here and like the players want to do, and we want to make sure the club is on a good footing."
Thompson was suspended with no explanation from the club and Leeds have lost both matches since his departure.
Saturday's 3-0 defeat by Blackburn was followed by a 4-3 loss against Wolves on Monday.
Leeds, who are 14th in the Championship, fought back from 3-1 down to draw level before Dave Edwards scored a late goal for Wolves at Molineux.
Redfearn said: "You can see that the players and the supporters are with us and we just need a fighting chance. This great club is starting to get back on its feet and it needs the same chance as the other 91 clubs.
"I have concentrated on the last two games and it has not been about me. It is about the club and what is best for Leeds United. There are five games to go and it is important to finish well.
"We can kick on and get some momentum to take into next season but at this moment in time it is wrong just to think about me. The club is far more important."