Man City: Manuel Pellegrini's problems & Sergio Aguero's blues
Last updated on .From the section Football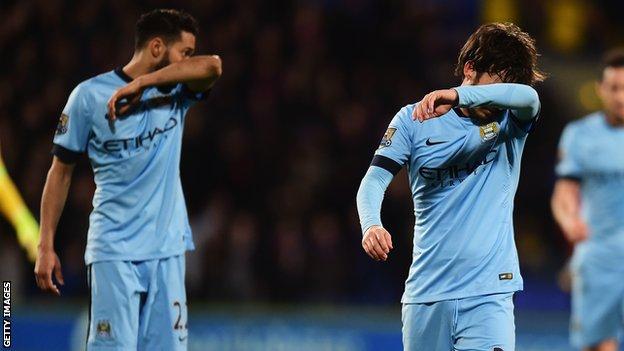 Manager Manuel Pellegrini says he is "not concerned" about his future, despite Manchester City's title defence being severely damaged at Crystal Palace.
A 2-1 defeat at Selhurst Park extended the champions' dismal form to four wins in 11 league games, a run which leaves them fourth, nine points behind leaders Chelsea.
Those costly slip-ups have seen City fall from second - behind Chelsea only on alphabetical order - and nine points clear of Manchester United to a point behind their local rivals ahead of Sunday's Manchester derby.
So should Pellegrini be worried about his future? And just what has gone wrong for his team?
'I'm not concerned about my job'
"We are not thinking about Chelsea, or about the title. We are just trying to win our games," said Pellegrini after the defeat at Palace.
"All we can do is try to add the most amount of points we can in our seven games and we will see who is first, second, third and fourth."
City, champions in 2012 and 2014, have been undone by recent failings, including three consecutive away defeats in the league for the first time since 2011, when they finished third.
But Pellegrini does not fear the fate suffered by predecessor Roberto Mancini, who was sacked after failing to deliver silverware in 2013.
"I'm not concerned about my job. That is one thing I am never concerned with," said the 61-year-old.
"I never have fear about it, I do my work, I'm very happy. The team maybe have a difficult season but never worry about me."
The pundits' view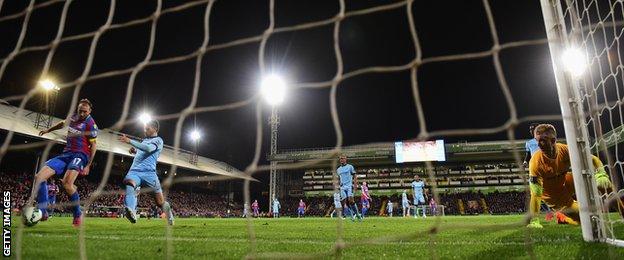 Former Tottenham manager David Pleat was critical of both City's transfer policy and their failure to provide a pathway into the first team for their youth players.
The Blues have spent about £80m this season, bringing in striker Wilfried Bony from Swansea in January and defender Eliaquim Mangala, midfielder Fernando and goalkeeper Willy Caballero last summer.
Pleat told BBC Radio 5 live: "Whether Manuel Pellegrini stays or goes, owner Sheikh Mansour is not going to be happy.
"Under financial fair play they have spent a hell of a lot of money on players and they've not spent it wisely.
"City are an ageing side but they're not developing young players even though they are saying they are."
BBC Radio 5 live senior football reporter Ian Dennis highlighted their form away from Etihad Stadium.
"They've dropped 20 points in 13 games since turn of the year and their away form now is the worst it has been in six years," he said.
"We might as well call Chelsea 'champions elect' now and Pellegrini will be under scrutiny."
Former Tottenham and Queens Park Rangers manager Harry Redknapp would like to see Pellegrini given another a season in charge.
Redknapp told BBC Radio 5 live: "I only met him a couple of times but he's a smashing fella. He knows the game. This year hasn't been a great year for them, it looks like they're going to end up with no trophies and that's the name of the game.
"I hope he gets a chance again next year but I wouldn't like to bet on it."
Blue times for Sergio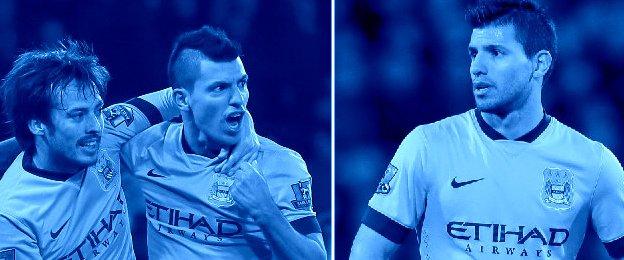 City striker Sergio Aguero has had the net rippling at will at times this season and, on 17, is just two goals shy of Diego Costa and Harry Kane in the race to be Premier League top scorer.
But celebrations have turned to questions for both him and his team-mates. They have now lost seven of 14 games since 10 January and Aguero has not scored for 556 minutes.
Lies, damned lies and statistics
City are still challenging for the title but this is the first time since 15 September they have been out of the top three.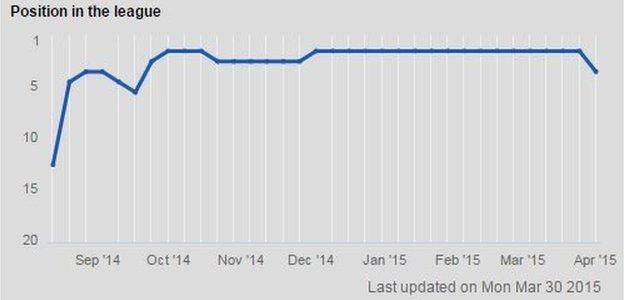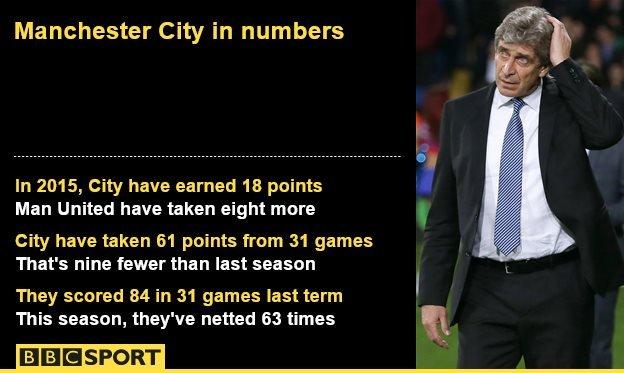 Social media reaction
There was plenty of anger among City supporters online in the aftermath of the Palace defeat.
One suggested that fourth place was all they deserved because "they are are nowhere near as good as they think they are", while another claimed they would not even finish in the Champions League places.
Pellegrini was not spared, either, with one supporter suggesting the Chilean "should be sacked, effective immediately, tonight".
The pundits were only slightly less critical...


And if things weren't bad enough for Pellegrini and City, they cross Manchester on Sunday to face a rejuvenated United knowing defeat would open a four-point gap between the sides with just six games remaining.