Manuel Pellegrini: Manchester City's manager under pressure

By Phil McNulty
Chief football writer
Last updated on .From the section Football615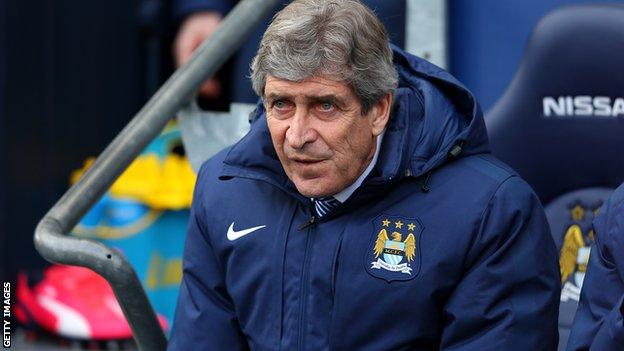 Manchester City are facing the sobering prospect of finishing fourth in what was meant to be a two-horse title race - a position they might even sign up for now after their latest damaging defeat at Crystal Palace.
The reigning Premier League champions will surely forget any notions of retaining their trophy after the loss at Selhurst Park left a gap of nine points between City and leaders Chelsea, who have a game in hand and only eight matches to play.
Just a few weeks ago all logic pointed to a straight fight between City and Chelsea with the trailing pack looking on from the sidelines. Now City must prioritise the top four and cannot yet do that with any sense of certainty.
City are now in fourth place, seven points ahead of Liverpool and with a vastly superior goal difference of +33 to +9, which is as good as an extra point - but whereas they face a testing derby trip to Manchester United on Sunday, Brendan Rodgers side have an eminently winnable home game against Newcastle United 25 hours later. It may yet get tense.
The idea of even holding a conversation about City's Champions League hopes was unthinkable a few weeks ago - but consecutive away losses to Liverpool, Burnley and Palace have altered the landscape.
So how has it come to this?
No Champions League - The Unthinkable
Manchester City's owners do not just want them in the Champions League - they want the club established there. There have been no unrealistic demands to win Europe's elite club trophy in quick time, although that particular return on their investment has been disappointing, going out at the last-16 stage again to Barcelona this season.
Given the infrastructure and open ambition of the Sky Blues, the idea of not actually competing in the tournament next season is unthinkable.
Such are the vast riches of City's Abu Dhabi hierarchy, the loss of financial revenue from competing in the Champions League would be cushioned more comfortably than for most but it would still be a devastating blow to profile and pride.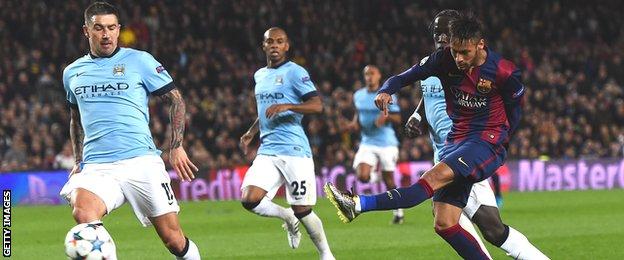 There will be changes anyway at City in the summer but such a setback could accelerate the process on all levels, including managerial, where Manuel Pellegrini would surely struggle to survive such a failure.
Yaya Toure may go anyway but how would the likes of Sergio Aguero and David Silva, both on long and lucrative contracts it should be stressed, react to being out of the Champions League? The Sky Blues, at least, have the financial firepower and burning ambition to reassure players of such stature that it would be a temporary absence.
The good news for City is that they still have a healthy lead over Liverpool and the ability within the squad to dig out the results they need in their remaining seven games, which include winnable home games against West Ham United, Aston Villa, QPR and Southampton - although there are away trips to United, Swansea and Spurs which look hazardous.
City are still in prime position for a top four place. Anything else would be catastrophic.
The Reliables become unreliable
Manchester City's recent years of success have been built around the powerhouse provided by the spine of goalkeeper Joe Hart, captain and defensive pivot Vincent Kompany, Yaya Youre and the world-class attacking talent of Sergio Aguero.
Hart has maintained his form this season but the form of Kompany and Toure, while both have had injuries, has dipped alarmingly to the point where the captain and symbol of their title wins was dropped to the bench against Leicester City recently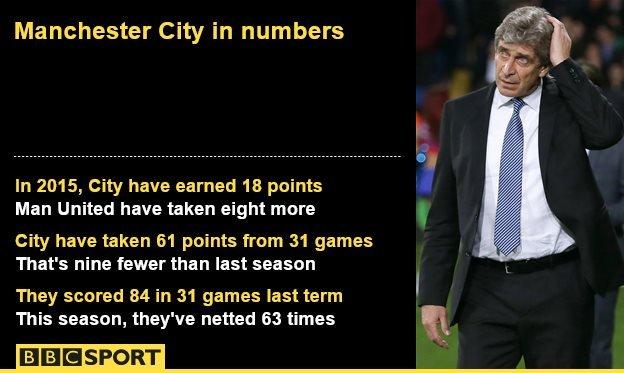 The future without the giant Ivorian has been an open subject for discussion, with former manager Roberto Mancini possibly luring him to Serie A with Inter Milan.
Kompany has been culpable in many City defeats, particularly at Liverpool, while Toure's imperious power - despite scoring in the 2-1 defeat at Palace - has dwindled to the point where he has been outmanoeuvred by opponents who would not get near him in his pomp.
This time last season Toure had played 35 games and scored 20 goals. This year he has made 23 appearances with just eight goals. The contrast is telling.
Toure is 32 next month, his finest years behind him. He has been outstanding for City but it may make sense to cash in now if that big offer arrives.
Aguero continues to be a threat but has failed to recapture his finest form since suffering a knee injury against Everton in early December. It is no coincidence that these narrow away defeats have come at a time when the Argentine's sharpness has been blunted.
He was unlucky to hit the post in the first half against Palace but it is now six games and 556 minutes since he last scored, against Barcelona in the Champions League. City have also lost seven of 14 games since 10 January, and three successively in the league for the first time since 2011.
Aguero has made 26 Premier League appearances this season to 23 last year - and while his goal tally is the same at 17, it is that 2015 dip that has done the damage.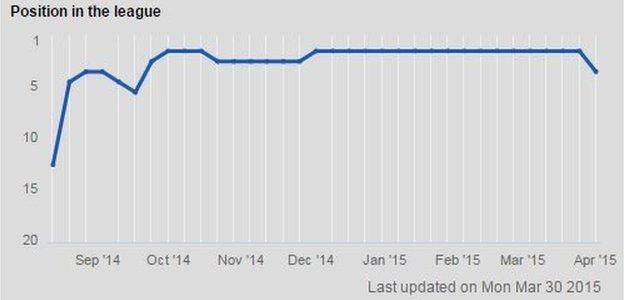 Aguero will be kept at all costs but Toure looks to be on borrowed time and evidence suggests City have seen the best of Kompany, who has played 22 games compared to 28 at this stage last season, even chipping in with four goals whereas he has not scored this term.
The end result is that City have only won 18 out of 31 games this season compared to 22 last and are crucially nine points adrift of their tally of 70 at this stage in their title-winning season - the exact number by which they trail Chelsea.
Flawed transfer policy
Manchester City have spent in excess of £200m under Roberto Mancini and Manuel Pellegrini since May 2012 but there has been a consequence of diminishing returns. The squad now has a stale, ageing appearance.
Eliaquim Mangala has looked horribly overpriced at £32m from Porto while Fernando, £12m from the same club, has not been a success. Wilfried Bony arrived from Swansea City for £25m in the January transfer window but has made a slow start.
City's transfer policy has been shaped by a £49m fine last summer, £32m of which was suspended, for failing Uefa's Financial Fair Play Rules. It means they could only spend £49m on players last summer as well as any transfer fees received - and their wage bill for 2014-15 had to remain the same.
Man City's signings under Manuel Pellegrini (June 2013 - Present)

Player

Fee

PL appearances this season

Fernandinho

£30m (July 2013)

26/31

Stevan Jovetic

£22m (July 2013)

17/31

Alvaro Negredo

£20m (July 2013)

Loaned out

Jesus Navas

£14.9m (July 2013)

29/31

Martin Demichelis

£4.2m (September 2013)

24/31

Fernando

£12m (July 2014)

21/31

Willy Caballero

£6m (July 2014)

2/31

Bacary Sagna

Free (July 2014)

9/31

Eliaquim Mangala

£32m (August 2014)

18/31

Bruno Zuculini

£3m (August 2014)

Loaned out

Frank Lampard

£0 (August 2014)

25/31

Wilfried Bony

£25m rising to £28m (Jan 2015)

5/31
And this is a squad in need of an overhaul. Look at the starting line-up at Palace: Bacary Sagna is 32, Martin Demichelis 34, Kompany 29 within days, Gael Clichy 29, Toure 32 in May, David Silva 29, Fernandinho 30 next month, Jesus Navas 29 and Edin Dzeko 29.
This is not a group of players in its first flush of youth and despite those imposed restrictions it is unlikely the work of director of football Txiki Begiristain and chief executive Ferran Soriano will go without scrutiny at the season's end.
One thing that can never be doubted about City is their ambition so expect, with financial shackles removed, things to be remedied in the summer.
City's work at the magnificent Etihad Campus is testimony to the club's desire to nurture its own talent but Pellegrini has spoken for the need to make a big-name signing this summer as a show of intent - with a preference for an English buy.
This puts Liverpool's unsettled Raheem Sterling in the frame, along with Everton prodigy Ross Barkley and Arsenal midfield man Jack Wilshere. Juventus' Paul Pogba and Wolfsburg's Kevin De Bruyne could also be on the radar.
It would have been a summer of change at City irrespective of the outcome - the recent struggles may just increase the pace.
Will Manuel Pellegrini keep his job?
Manchester City's owners have done wonderful work in and around the local community and have unveiled the landmark Etihad Campus as testimony to their long-term intentions and desire for stability - but the bottom line is success on the pitch.
When Roberto Mancini failed to follow up winning the title he was sacked, his confrontational approach replaced by the more "holistic" style of the Chilean Pellegrini. City's hierarchy do not want to be seen as operating any sort of revolving door managerial policy, but with high ambitions comes high expectation.
If City finished outside the top four it is difficult to see how Pellegrini could stay. If they finish in the top four he may still be in peril because of the jaded, uninspired manner of so many performances this season.
While suggesting the sacking of Pellegrini is the easy part, locating the replacement is more difficult.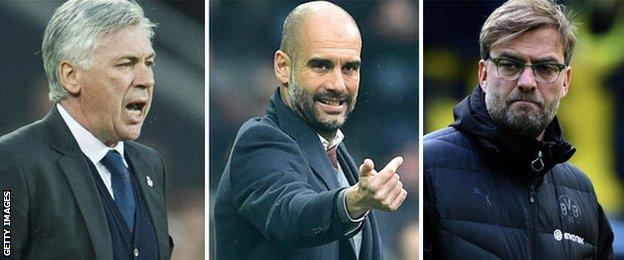 If Pep Guardiola could be lured from Bayern Munich then that would be the perfect solution, completing a Catalonian triumvirate alongside Begiristain and Soriano.
Guardiola is very unlikely to be available this summer and the successful but highly-combustible Atletico Madrid coach Diego Simeone (who has just signed a new contract) does not appear a neat fit.
So would City consider Carlo Ancelotti at Real Madrid, where the managerial temperature can change by the hour, or Jurgen Klopp, whose best work may be done at Borussia Dortmund?
It should also be remembered that in his first season Pellegrini won the title and the Capital One Cup so he hardly has a list of failures against his name at the Etihad.
But defeats like those at Burnley and Crystal Palace, and what is looking like another tame surrender of their Premier League title, will be exercising minds from Abu Dhabi to Manchester in the weeks ahead.