Luke Varney: Ipswich 'let themselves down' at Huddersfield
Last updated on .From the section Football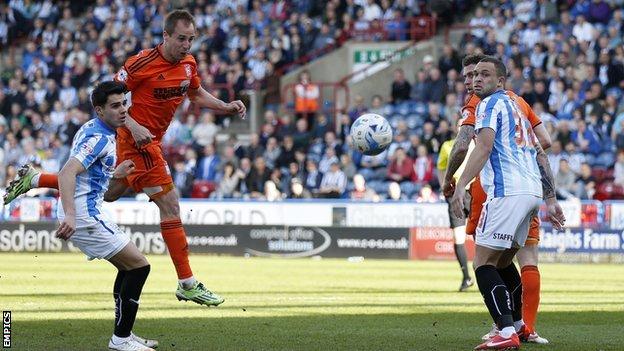 Ipswich striker Luke Varney says Town's players "let themselves down" in Monday's 2-1 loss at Huddersfield.
The defeat left Ipswich eighth in the Championship, three points outside the play-off places with five games left.
Varney, on loan from Blackburn, scored his first goal for the club just after the break but first-half efforts from Nakhi Wells and James Vaughan ended Town's three-match unbeaten run.
"We didn't do ourselves justice," the 32-year-old told BBC Radio Suffolk.
"We knew we needed to do a lot more and we've let ourselves down."
Varney said criticism from Ipswich's travelling support was "fully deserved".
He added: "I could hear them in the first half. Normally when I'm playing, I don't tend to hear what's going on because you're concentrating so much, but it was hard not to with what was going on.
"I just felt all over the shop, it's been so different from us. We're normally so organised and go from a shape, but that's our fault - we didn't get to grips with it at all, and unfortunately we left ourselves needing too much."