'I have the ability to do incredible things'
By Oluwashina Okeleji
BBC Sport
Last updated on .From the section Football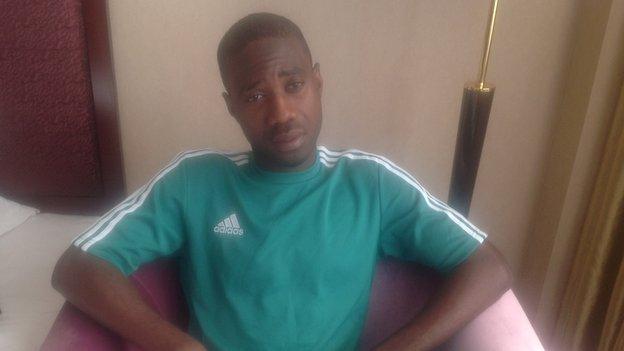 Nigeria forward Bernard Bulbwa is determined to fulfil his potential after signing a five-year deal with Tunisian giants Esperance from Lagos-based Shuttle Sports Academy.
The 18-year-old was the hero in March when Nigeria won a record seventh African Under-20 Championship title by beating hosts Senegal 1-0 in the final.
He produced a moment of sublime skill to score the winning goal when he flicked the ball over his head with a backheel and then volleyed the ball into the top corner from outside the area.
"It came naturally, I didn't plan or work for it, it was self-belief and instinctive," Bulbwa told BBC Sport.
"My coach Nduka Ugbade [Nigeria assistant U-20 coach] says fitness and confidence can make you do anything you want to do.
"The Nigeria Football Federation technical director [Emmanuel Ikpeme] can testify that I scored a similar goal in Akwa Ibom in 2013.
"It was against a selected side at the U-17 level, people can call it a fluke but I have my career ahead to prove that I have the ability to do incredible things."
That goal in Dakar led to interest in Bulbwa from several European clubs, but two-time African champions Esperance quickly finalised a deal for the player before he gets a chance to add to his value at the U-20 World Cup in New Zealand.
It was dream come true for Bulbwa after two years of frustration in which he was was omitted from the squad that won the U-17 World Cup for a record fourth time.
"I was part of the team that qualified for the World Cup but missing out nearly broke me, luckily my coaches and family stood by me," he revealed.
"I watched in agony as my friends won in Dubai but somehow I was happy for them because they deserve it.
"It's some of the dark moments in my life people did not see, but now everyone is talking about that goal in Senegal, such is life."
Bulbwa has had to be patient and wait for his transfer after proposed deals to other clubs fell through.
"At a time I wanted to go and play for Nigerian top clubs El Kanemi and Kaduna United but the academy didn't let me. I was told both clubs would not give me the ideal development I need to properly grow as a footballer," he said.
"Back then I was a bit disappointed but thankfully I'm at Esperance now. They showed resilient and determination to sign me, now it's my turn to deliver on the pitch.
"I got late offers from some European clubs but I chose Esperance because I will get a chance to play in the first-team immediately. I want to play football and not sit on the bench.
"And now I have a club, I will no longer be under pressure to perform. I have been concerned that I was trying to do too much to impress people.
"But having signed for Esperance, I'll be more relaxed in a positive way and be able to play my football. This club will definitely be the platform to take me to the next level."
In the longer-term, Bulbwa is hoping he can emulate the success story of compatriots Julius Aghahowa, Garba Lawal and Michael Eneramo, who used Esperance as a springboard to move to Europe.
"I have big shoes to fill because those players achieved so much here but it will not make me crumble but inspire me," he said. "If those established stars could earn big move to Europe from here, then I have landed where dreams are made of.
"I just need to work hard, continue to believe in myself, give my best to Esperance and see where that will take me."
Bulbwa began his career at Mkar Rocks in Gboko, Benue State in central Nigeria before joining Shuttle Sports Academy in Lagos three years ago.
Nicknamed Tsumcy, coined from his middle name, Tsumega - which literarily means 'no mistake' in his native Tiv dialect - Bulbwa is the youngest in a family of seven children.
The forward is delighted to be in a position to be able to look after his family.
"I now have a chance to support my family," he said. " All along I have had to rely on allowances, stipends and bonuses from the national team, which was not a regular income.
"But now my whole family is happy, they look up to me and this move comes as a financial blessing and great opportunity for us to live a better life."