Michael Collins says Oxford United have Championship plans
Last updated on .From the section Football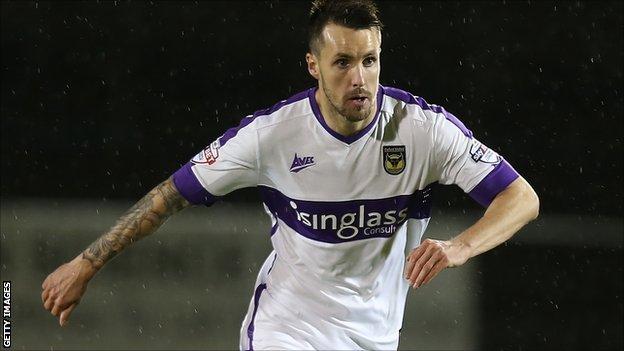 Oxford United are a club capable of reaching the Championship in the near future says midfielder Michael Collins.
The U's management are already working on their summer recruitment targets and have shown the players plans for the club over the next few years.
And Collins, 28, says he was impressed by the club's ambition.
"There are not many clubs in League One and Two that have ambitions to make it into the Championship," Collins told BBC Radio Oxford. "This club has."
Collins feels there are exciting times ahead for supporters of the club.
"We've seen the plans," he added. "This club is going to go places and it's important people put down a marker.
"The gaffer has shown us on more than one occasion. This season has been a turnover season in terms of players coming in and out but we are starting to find our feet now and you are starting to see what we are trying to build.
"The vibes coming out from within the club from the chairman down to the manager that we see on a daily basis is that you've got to prove yourself to be a part of this club."
Oxford flirted with relegation from League Two for a spell this season but are unbeaten in their last three matches.
Collins believes that despite the poor season there is still an air of positivity around the Kassam Stadium among players and staff.
"Not many teams in this division will have the ambition of this club," he said.
"I will have a little bet with anyone that in three years' time this club will be knocking on the door of the Championship, if not in it.
"It's a big statement but I genuinely believe it and I certainly think the club will do it."