Gary McAllister helps launch new Scottish football fans group
Last updated on .From the section Football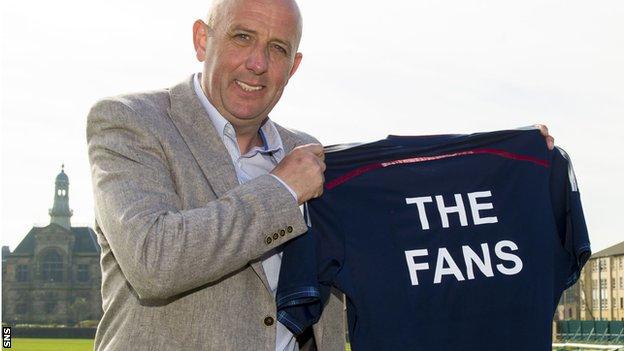 Former Scotland captain Gary McAllister has given his backing to a new independent football supporters' organisation.
McAllister, capped 57 times for Scotland, was named as the The Scottish Football Supporters Association's first ambassador.
Until now, Scotland had been the only football nation in Europe not to have an independent fans' body.
"Supporters have always been at the heart of the game," said McAllister.
"Having an independent voice that offers a valuable contribution to the game in Scotland is something that I am delighted to support."
The SFSA, which says it has reached 40,000 pledges of support from Scottish fans' groups at club level, will include a national advisory group.
It will contain experts on football and governance matters, including former First Minister Henry McLeish and Maureen McGonigle, founder of Scottish Women in Sport, and from academia and the business world.
They will work with a football advisory group that so far includes fans from Aberdeen, Ayr United, Celtic, Dumbarton, Hearts and Rangers.
Paul Goodwin from the SFSA said: "The role that supporters play in the game is undoubtedly greater than ever before, but there are still aspects of the game that they have strong views, and believe they should have a greater say, in.

"Ticket pricing, fixture scheduling and the commercial success of the game are only a few topics that continually come up in fan conversations, but we know that are others too and we want to work closely with the current footballing authorities to ensure fans are involved in the decisions being made that impact on our game.
"Incredibly, to date, Scotland has been the only footballing nation in Europe to date not to have an independent football supporters' organisation, something that will probably come as a surprise to many.
"In England, the Football Supporters Federation has 500,000 members and, across Europe, The Football Supporters Europe network includes independent supporters groups from 45 countries but not from Scotland."
The group says it will be managed on a voluntary basis and will be funded through donations, commercial activity, grants and eventually securing contributions to costs through a levy system.
McLeish, who previously spearheaded a major report on the future of football on behalf of the Scottish FA, said: "Football fans and supporters are the life blood of the game. We need to make sure that there is always a constructive dialogue with the fans so their wishes and aspirations can be heard and acted upon.
"Football works best when it works together.
"Over the next decade, there are real challenges facing the Scottish game but also real opportunities to build on the work that is already being done by the SPFL clubs, the SFA and the vast number of clubs and players in every part of Scotland.
"We also need to broaden the fan base and attract new fans and supporters.
"The live game matters and I am sure the new organisation being set up today will help grow the game and make a positive contribution to a bigger and more successful future."