Napoli president Aurelio De Laurentiis threatens extra training
Last updated on .From the section European Football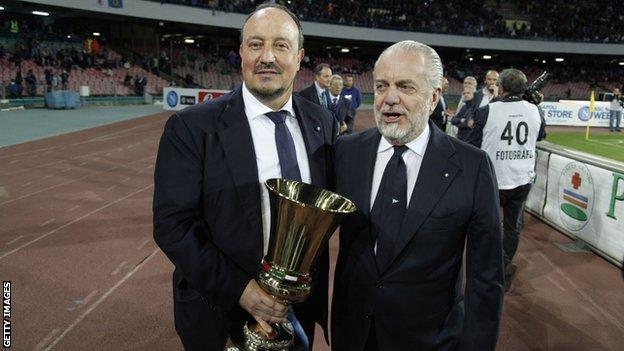 Napoli president Aurelio De Laurentiis says he will send his players on an "unlimited" training camp if results do not improve this season.
Napoli, managed by ex-Liverpool boss Rafael Benitez, face Wolfsburg in the quarter-finals of the Europa League.
But they lost in the Coppa Italia semi-finals to Lazio on Wednesday and have failed to win in five Serie A games.
"I want discipline. I have never failed to pay salaries or even delayed them," Di Laurentiis said.
"I have spent 386m euros (£282m) on the purchase of players in 10 years and I demand commitment."
De Laurentiis, who is also a film producer, said if there is "no change of course" the players will spend an "unlimited time" in training at the end of the season.
"I dislike the idea of a training camp as part of the club's philosophy but Naples is a city which is full of distractions."
Napoli won the Coppa Italia last season and finished third in Serie A.
However, they have slipped from third to sixth place in the table recently and are struggling to qualify for next season's Champions League.
Benitez, whose two-year contract expires at the end of the season, said: "We got to the Coppa Italia and Europa League quarter-finals, so you can't say we're not doing well.
"We are still alive and kicking. We just need a little more accuracy in front of goal."