WSL: London Bees' journey from five-a-side to the Super League
Last updated on .From the section Women's Football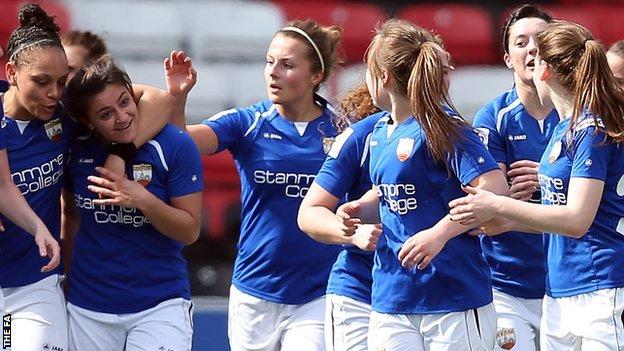 Take a quick scan of the clubs in the Women's Super League and a host of familiar names will catch your eye.
Arsenal, Chelsea and Liverpool are among the global brands now competing at the top of the domestic English women's game.
But who are London Bees?
Formerly Barnet FC Ladies, the new franchise was formed ahead of the expansion to a two-tier WSL in 2014.
"We just thought we should do something different," chairman Tony Kleanthous told BBC London 94.9. "I wanted to create something that was about London.
"One of the biggest issues I see in ladies football is that there's too much trying to emulate men's football. So you have an Arsenal Ladies team, a Chelsea Ladies team, etc.
"The problem is, if you have an Arsenal team, you are not going to get a Chelsea or Spurs fan to go and support that team.
"So we decided to go a different route and to start a completely new club try and break away all those old barriers, to create a new club that the whole of London can get behind."
The club has direct roots stretching back to the 1980s, and Graham Slyper, a director at Barnet men's club, has been involved from the beginning.
"Back in the early '80s, when my step-daughter was still at primary school, the Metropolitan Police were running an annual five-a-side competition," he told BBC London 94.9. "They opened it out to girls and she was in a team that her primary school entered.
"She and the other girls enjoyed it so much that they persuaded their then teacher to start a team, which he did.
"I got involved in the administration and then, a few years later, they wanted to form a separate team, and because all the girls came from Barnet, we called it Barnet Ladies Football Club.
"At the stage in the development of women's football, it was pretty much all five-a-side football.
"By the early 1990s, our Ladies team had become quite a force. We developed from five-a-side to 11-a-side. We ran junior teams and senior teams.
"In the mid-1990s, I wrote to Tony Kleanthous and said 'we share a name with you - can we have some sort of association?' He invited me in and the rest is history."
Did you know?
Barnet FC Ladies became the first ever women's club to play their regular home matches at a Football League ground - Underhill Stadium, the former home of Barnet FC
London Bees played in the first ever WSL 2 match at the start of the 2014 season - away to Oxford on 14 April 2014
The Bees can boast some of the best facilities in the WSL, now playing their home games in the north west of the capital, at The Hive, a place with £50m worth of facilities.
But on the pitch, things did not quite go to plan last season, as they finished rock-bottom of WSL 2 with just eight points from 18 league games and a goal difference of -41.
Such a baptism of fire was surely not part of Kleanthous' ambitious plan to draw in fans from across the capital.
"There was a very big part of me that was disappointed that we finished bottom, after promising the chairman that we could finish ninth or above," head coach Julian Broomes told BBC London 94.9.
"I'll try not to do that next time because he likes people to stick to their word.
"I think he would like us to just be a lot more competitive, putting on a good show and being ambassadors for the club.
"Our grass pitches are fantastic, our stadium is excellent, so it was important to make sure I brought in very experienced players.
"They may not be the best players right now but, believe you me, they are very good and they will surprise a few people this season."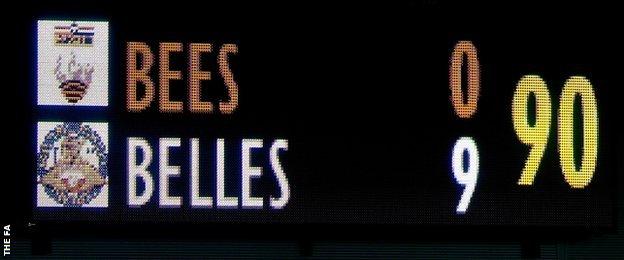 Determined to make a fresh start, the Bees have picked up two points from their first three league games of 2015, including a surprise 2-2 draw away to recently-relegated Everton on Sunday.
"The girls really have forgotten about last season," added new signing Cheryl Williams. "We are going to gel as a team much better.
"It's a very young team but the girls have that first season under their belt so it's a case of upping your game, regardless of what age you are really, and putting in a performance every week."
But despite the positives of a rare clean sheet in their 0-0 draw at Millwall and picking up a point at pre-season promotion favourites Everton, the Bees were also thrashed 7-0 by Reading.
With no relegation from WSL 2 this season, Broomes' side know they cannot drop down to the Women's Premier League. But that does not mean there is not pressure to deliver positive results.
Interviews done by BBC London 94.9's Emma Jones.