Tim Sherwood: I was a success at Tottenham says Aston Villa boss
Last updated on .From the section Football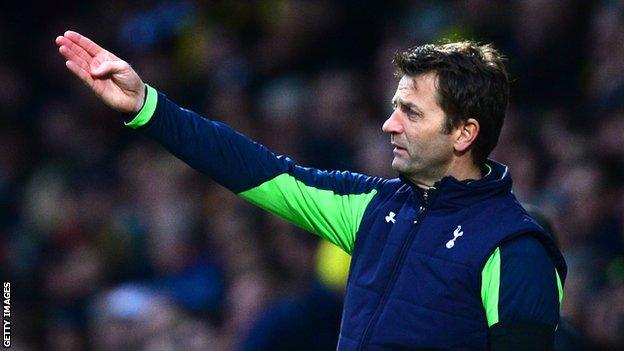 Tim Sherwood has insisted his time at Tottenham was a success as he looks forward to his first return to the club since his sacking in May.
The 46-year-old, who takes his Aston Villa side to White Hart Lane on Saturday, was dismissed by Spurs two days after leading them to a sixth-place finish last season.
"I knew it would be a tough job at Tottenham and it proved that," he said.
"But I was very successful, both as a development coach and as a manager."
Sherwood took over at Spurs in December 2013, after a period running the under-21 side, and went on to record a 59% top-flight win record, the best of any Tottenham boss in Premier League history.
Premier League win record as Spurs boss

Games

Wins

Losses

Win %

Pochettino

31

16

9

52%

Sherwood

22

13

6

59%
His replacement, Mauricio Pochettino, added five players to the squad in the summer, at a reported cost of around £35m, but Spurs are currently in the same position they finished last season.
"Pochettino took over a really good situation there. We finished on par with where we should have finished," said Sherwood.
"To be able to inherit a group of players of that quality and then have the benefit to strengthen - it was the dream job."
Sherwood on insecurity at Spurs
Sherwood's future was regularly placed in doubt during his Spurs tenure, with other managers linked to his job before his eventual sacking.
"It's up to individuals if they want to put themselves forward. I wouldn't do that - certain individuals did, but the individual in charge at the moment didn't," said Sherwood.
"You don't know if the rumours are true. But it's not something I would like to do."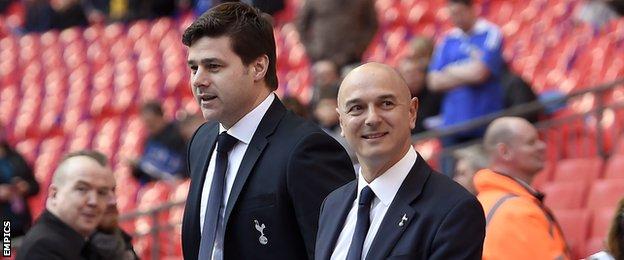 Sherwood on Spurs chairman Daniel Levy
"I've communicated with Daniel Levy. I've got a lot of respect for him. He makes decisions as chairman that he thinks are in the best interests of his club.
"Tottenham are in a much better position now than before Daniel Levy came in - because I was there the day he walked into the club."
Sherwood on being Villa's 'chosen one'
Sherwood took over at Aston Villa in February and his side are currently three points above the relegation zone.
"Spurs were a good club for me. I had a good time there. I wouldn't be here as Aston Villa manager if it wasn't for my time at Tottenham.
"It's good to be the chosen one at a football club the size of Aston Villa. This is the dream job of all time for me.
"I need to be in the Premier League, I've come here to be a Premier League manager. I will take my part of the responsibility if it doesn't work out."
Sherwood on Harry Kane & Spurs' other starlets
"The young boys have done fantastically there and I'm very proud to see them play well.
"But I don't want to see them play that well on Saturday."