Clinton Morrison would only extend his career with Exeter City
Last updated on .From the section Football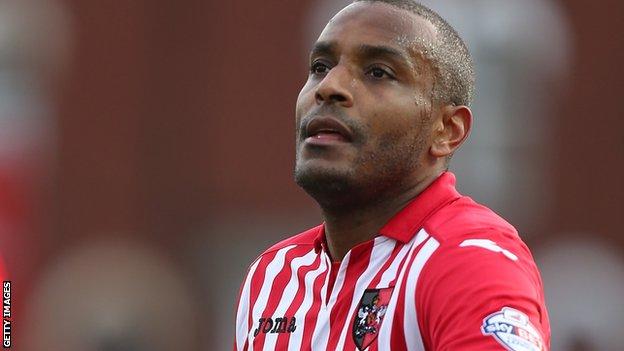 Clinton Morrison says he would only consider extending his career if he could play for Exeter City.
The 35-year-old former Republic of Ireland international and in January.
"If I decide to play again it will only be for this club," he told BBC Devon.
"I can't see myself going to play anywhere else unless it was a ridiculously good offer," he added.
Morrison had been playing local non-league football in the Midlands earlier this season after his contract at Colchester ended at the end of last term.
"I've come down here and got an opportunity to play football again," Morrison said.
"In the summer I was going to give it up, I fell out of love with football, but I've started to enjoy it now.
"When you feel appreciated by the fans, which I feel here, and by other people and the management, we'll see what happens."
Morrison has scored 172 goals in a career which has seen him play for clubs such as Crystal Palace, Coventry City and Birmingham City, as well as make 36 international appearances and go to the 2002 World Cup.
But he has yet to hit the back of the net for Exeter.
"It's a massive frustration, I love scoring goals and I've done that my whole career," he said.
"I ask people 'am I getting in the wrong position?' and they're saying 'you're getting in the right position, the ball's just falling to someone else'.
"Eventually one will go off my knee or my backside, but the most important thing is we're winning games and I'm contributing by creating chances and setting people up.
"If I don't score from now until the end of the season, I'll be disappointed, but if I'm creating and other people are scoring and we get promoted that's the most important thing."