DR Congo's Bolasie expects tough 2017 Nations Cup campaign
Last updated on .From the section Football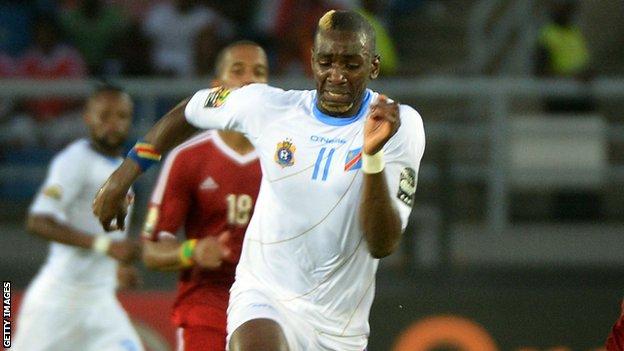 Democratic Republic of Congo winger Yannick Bolasie expects a 'difficult' qualification campaign for the 2017 Africa Cup of Nations in Gabon.
His country will face Angola, Central African Republic and Madagascar in Group B.
DR Congo came third in the 2015 Nations Cup and Bolasie says that adds more pressure to their qualifiers.
"People might look at the group and think it's easy, but we've got a job to do," Bolasie told BBC Sport.
"Everyone's going to be taking us really seriously because we finished third in the African Nations Cup so qualifying is going to be difficult again."
Bolasie is urging his DR Congo team-mates to finish as one of the 13 group winners who will automatically book their place at the tournament along with the two best-placed runners-up.
"I'm not saying we are going to win the group but we've got no choice but to win if we want to play in the African Nations Cup.
"You don't want to be trying to fight for the best two second places. That's not for us," Bolasie added.
On a personal level, Bolasie is excited about the chance to play in Gabon in two years time.
" I've never been [to Gabon], so I'm looking forward to it."
The 25 year old, who has 16 international caps, has helped Crystal Palace climb to mid-table in the Premier League this season.
He knows there is pressure on him to be a role-model for the rest of the DR Congo squad, but hopes his professionalism will rub off.
"Obviously, they're looking at me and most of the time they've only seen me on TV.
"So it's not just what you do on the pitch, it's what you do off it and how well you present yourself and keep yourself professional."
Elsewhere, Senegal's FA president Augustine Senghor was very content with a draw that pits the 2002 runners-up against Niger, Namibia and Burundi.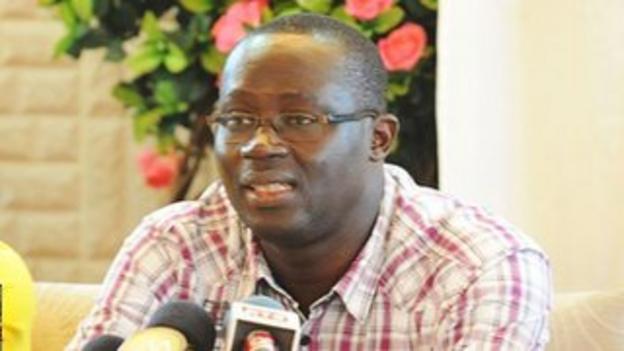 The latter have never qualified for a Nations Cup, Niger's sole two appearances came in 2012 and 2013 while Nambia contested the finals in 1998 and 2008.
"I think we have a good draw," Senghor told BBC Sport.
"Our target is first place but you never know and you can have surprises. I am confident that we can finish first in this group."
Senegal have had a chequered record in recent years, having only qualified for Africa's biggest sporting event twice in the last four editions.
Nonetheless, Senghor was also happy to look at the wider implications of the draw.
"Apart from one or two groups, you have the best teams in a position to qualify," he said.
"It's important for this competition that there is the possibility for the top teams to not play each other so that you can have a very high level for the next Nations Cup."
Two groups have pitted supposed heavyweights against one another, with three-time champions Nigeria meeting record Nations Cup winners Egypt in a Group G that also includes Tanzania and Chad.
Even though they are among the best-known sides on the continent, neither Nigeria nor seven-time champions Egypt qualified for the Nations Cup in Equatorial Guinea earlier this year.
Group M, meanwhile, pits South Africa and Cameroon - both of whom qualified for this year's finals - against one another, with The Gambia and Mauritania making up the pool.
Despite the latter two sides' failure to ever qualify for a Nations Cup, South Africa coach Shakes Mashaba is wary of their threat.
"While we may know much about Cameroon, not much is said about Gambia and Mauritania, and those could be our banana peels," he said.
"We have to do what we did during the 2015 qualifiers - be brave, show no respect but above all, prepare thoroughly and take nothing for granted."
Finally, Sierra Leone, whose local football has been suspended because of the Ebola outbreak, have been handed another challenge when being paired with reigning champions Ivory Coast, Sudan and 2017 hosts Gabon.
The latter's matches will only count as friendlies, meaning Group I is effectively a three-team group.
"We played Ivory Coast in the last qualifiers (losing twice) and they went on to win the championship but I think we're prepared for it," Sierra Leone FA secretary general Christopher Kamara told BBC Sport.
"It's a really tough group but we'll see how best we can come out of it."
Qualifying for the competition begins in June and concludes in September 2016.