Real Madrid: How Atletico can pull off Champions League shock
By Andy West
Spanish football writer
Last updated on .From the section European Football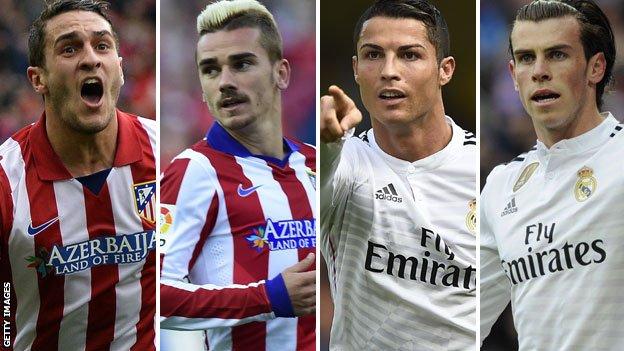 Atletico Madrid v Real Madrid: Champions League quarter-final
Dates:
First leg Tuesday 14 April; Second leg Wednesday 22 April
Coverage:
Live text commentary and reports on the BBC Sport website and app
According to bookmakers, Atletico Madrid have approximately a 30% chance of success in their upcoming Champions League quarter-final clash with crosstown rivals Real.
Odds-makers are not normally known for getting things wrong, but on this occasion they are surely underestimating La Liga champions Atletico's credentials by making them such heavy underdogs in the two-leg tie.
Real overcame Atletico in last season's Champions League final but the two teams have met six times this season, with Real winning zero.
If anything, it's Diego Simeone's men who should be regarded as favourites. Here is why:
Hard work
Perhaps the most enlightening statistic from Atletico's 4-0 drubbing of Real in February's league derby at the Vicente Calderon was that the home team collectively covered five miles more ground than their opponents.
That goes a long way towards explaining why Atletico appeared to outnumber their opposition all over the pitch: they put in more effort to get there.
Los Rojiblancos also perform with a frantic intensity, often giving the impression that the game is being played in fast-forward. They get the ball into dangerous positions as quickly as possible and put constant pressure on their opposition, denying them time or space to stop and think.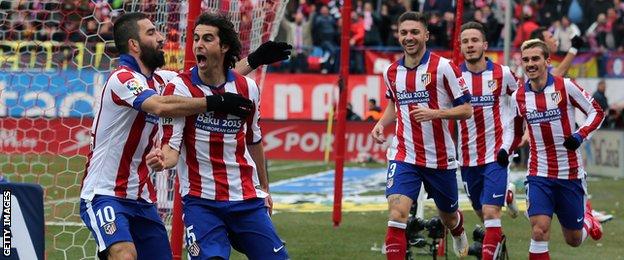 British fans who lament the demise of traditional "up and at 'em" qualities such as passion and team spirit should love Atletico, because their hyper-charged, never-yield-an-inch mentality is one of the cornerstones of their recent success.
Real, on the other hand, often attempt to take the pace out of the game, allowing their superior technical quality to shine by playing a calmer, less frenetic game.
Against Atletico that doesn't work. To have any chance of overturning their dismal recent derby record, Real must match their opponents' work ethic. If they don't, they will be physically smothered and overwhelmed.
Organisation
Thanks to the meticulous attention to detail of Simeone and trusted sidekick German Burgos, Atletico are extremely well organised and balanced.
Simeone's clear communication skills allow his players to go onto the pitch knowing exactly what their roles in the team are - and, perhaps just as crucially, what they aren't. Simeone has instilled a selfless environment where no individual is more important than the collective and nobody jeopardises the team shape by attempting to do too much.
Brazilian central defender and reported Manchester United target, Joao Miranda, outlined this in a recent interview with website Estadao, emphasising: "When we attack, it is important to keep our defensive shape."
That is hardly a revolutionary tactic but Simeone's insistence that his players stick to their roles and understand the wider team structure allows them to carry it out more effectively than perhaps any other team in the world.
Atletico's ability to, as Simeone has put it, "control the space and play the game where we want to play it", also means they can largely nullify one of Real's most lethal qualities: the counter-attacking ability of pace-laden front three Gareth Bale, Karim Benzema and Cristiano Ronaldo.
All told, their outstanding organisation and positional discipline make it very rare for Atletico to concede soft goals. They do not leave gaps to be exploited on the break, nor allow easy crosses or concede space to their opposition in and around the penalty box. To score against them, a team generally has to earn it.
Width
One of the specific tactical keys to Atletico's recent dominance over Real is their ability to exploit their attacking strength and Real's defensive weakness: width.
All four of Atletico's goals in February came from crosses - three from the right wing, where deceptively skilful right-back Juanfran regularly surges forward to showcase his outstanding crossing ability.
Los Rojiblancos are especially dangerous when they play against Real because of Carlo Ancelotti's 4-3-3 formation. That allows Bale and especially Ronaldo to be largely absolved of defensive duties and frequently leaves full-backs Marcelo and Dani Carvajal outnumbered.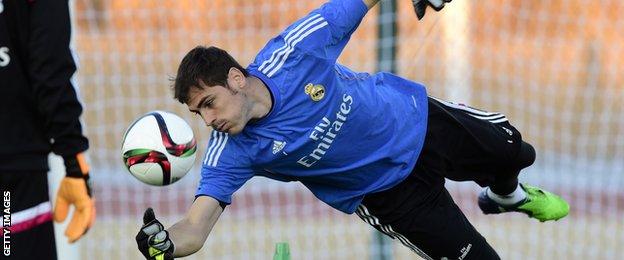 Ancelotti has been under pressure from fans and the media to revert to 4-4-2 and give more protection to his back four. There was more than a hint of that in Bale's greater defensive work during the first half of the recent Clasico against Barcelona.
Even if Ancelotti does alter his playing scheme, however, it would be a significant gamble to introduce a modified and relatively untested shape against Atletico's well-honed and finely tuned machine.
Another defensive concern for Real is the form of veteran goalkeeper Iker Casillas, 34 next month, whose ability to deal with crosses has never been his greatest strength and who has seen his place repeatedly questioned in recent months after a series of high-profile blunders.
Underdogs
After achieving so much in recent times, many managers would be seriously miffed about being as casually dismissed as Atletico generally are. Not so Simeone, who revels in his team's perennial underdog status.
Last year, the passionate Argentine described Atletico as a working-class team who have to scrap hard for any success that comes their way. "We represent the people on the street," he proudly pronounced.
Although he didn't say it directly, that clearly contrasts with the rich kids in gleaming white from the more salubrious part of town. Real's Bernabeu is surrounded by foreign embassies and smart apartments; the Vicente Calderon is next to a grubby stretch of river and a motorway.
This season's Madrid derbies

DATE

COMPETITION

RESULT

19 August

Spanish Super Cup

Real 1-1 Atletico

22 August

Spanish Super Cup

Atletico 1-0 Real

13 September

La Liga

Real 1-2 Atletico

7 January

Copa del Rey

Atletico 2-0 Real

15 January

Copa del Rey

Real 2-2 Atletico

7 February

La Liga

Atletico 4-0 Real
Real (translation: Royal) were known to be General Franco's favoured team during his long reign and the recent era of 'Galactico' transfers has further emphasised the gulf in privilege and prestige between the Spanish capital's two biggest clubs.
While Los Blancos casually hoover up their pick of the world's greatest talent, Atletico rummage under the radar, scouring the market for up-and-coming but largely unheralded talent.
This stark contrast sustains Real's status as the glamour club, keeping them in the global spotlight at all times, but it also leaves them burdened with huge expectations whereby any game not won emphatically is a potential crisis.
Atletico's traditional nickname of Los Colchoneros, the Mattress-Makers, further reflects their "man on the street" identity. Their unheralded life in the shadows also perfectly fits the style of play instigated by Simeone, giving a shared sense of purpose which has been essential to their success.
Quality
Do not be fooled by Atletico's reputation into thinking they are little more than a bunch of plucky overachievers. Simeone's squad - however much he might like people to forget it - also contains some serious quality.
The trio of midfielder Koke, creative wide man Arda Turan and French forward Antoine Griezmann possess a complementary range of skills and are talented enough to trouble any opposition.
Koke, only 23, has already exceeded 200 appearances for Atletico and plays with a maturity beyond his years. He keeps possession with calm intelligence, offering a dangerous goal threat and providing a steady stream of superbly delivered free-kicks and corners.
Bearded Turk Turan, who loves to drift inside from wide positions, is by far the team's glitziest performer, possessing an astonishingly smooth first touch. He is capable of slithering into gaps that don't seem to exist with wonderful balance and nimble footwork.
And Griezmann, 24, is the fast-rising young gun, not dissimilar to the youthful version of elder statesman team-mate Fernando Torres because of his relentless running, burst of pace, directness and goalscoring ability. He has netted 21 in all competitions since signing from Real Sociedad last summer.
Koke's craft, Turan's guile and Griezmann's penetration are a highly dangerous combination - especially when backed by the ultra-disciplined team structure imposed by Simeone.
If they prevail over Real once again, don't be surprised.