'Rangers still control badges and trademarks' say club's board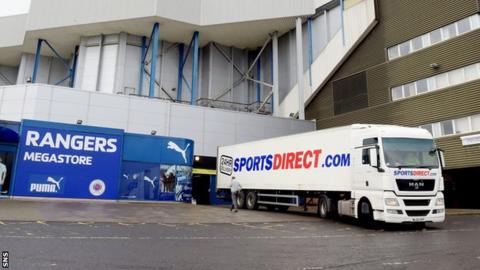 Rangers have reassured fans they are still in control of the club's badges.
It follows claims Newcastle United owner Mike Ashley has the rights to trademarks such as the "Ready" badge and Broxi Bear, the club's mascot.
Ashley's Sports Direct company had been given security over the icons and logos as part of the £5m loan given to the previous board in January.
"Let us be absolutely clear," read a statement. "Rangers remain the rightful and legal owners of their trademarks.
"Interim chairman Paul Murray has clarified this position with Sports Direct. In fact, both parties will come together within the next two weeks for talks."
South Africa-based businessman Dave King's new regime had promised a speedy investigation after documents appeared on the government-run Intellectual Property Office (IPO) website showing the club's trademarks were now controlled by SportsDirect.com Retail Ltd.
The IPO site confirms the transfer from Rangers Football Club Ltd to Sports Direct was fully assigned on 25 March.
"This was as a consequence of the loan facility entered into by the club's previous board in January of this year," the statement continued.
"In return for the loan, Sports Direct took security over all Rangers assets - but not Ibrox - including intellectual property owned by the club."
"Rangers supporters can be reassured that Sports Direct fully accept that all of the rights registered in their name will be returned to the club when the loan facility is repaid."
Ashley already benefits from a 75% share of the club's retail income with his loan deal.