Birmingham City Ladies 'heartless' in FA Cup defeat - Parker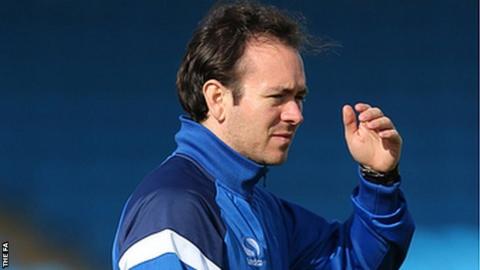 Birmingham City Ladies manager David Parker admits they gave a "heartless" performance in losing their Women's FA Cup quarter-final to Manchester City.
Goals from Toni Duggan and Nikita Parris put the hosts in control before substitute Coral-Jade Haines pulled a goal back for Blues only for Jill Scott to seal City's place in the last four.
"We weren't good enough and it shone throughout the team," Parker said.
"We're out of the FA Cup because we simply haven't performed."
Parker added that defeat left him with feelings of "disappointment, disbelief and a bit of a heartless performance".
"We deserved to go out," he continued. "Man City worked harder than us, they were technically better on the ball, they worked harder and out-ran us.
"I don't think it was about a matter of giving (too much) respect to Man City. They call us a pub team and, on the performance of today, we are.
"We've got no money, we don't have these great facilities but we can play and on the performance of today we were poor."
With this year's FA Cup Final held at Wembley for the first time, the Birmingham boss said his side had missed out on a huge opportunity.
"They're going to watch a team go out and play at Wembley and that's going to hurt the girls massively.
"Those girls on the pitch were good enough to win that game of football. We've not turned up collectively, we've not performed how we can and it's simply not good enough," Parker said.