'If I have to kick doors down, that is what I will do - I am stubborn'
Last updated on .From the section Football
A recent study claimed that 552 key coaching jobs in English football were occupied by just 19 people from black and ethnic backgrounds.
Football Association board member Heather Rabbatts said it was further evidence "that bodies across the game need to work together to challenge discrimination".
Sports Minister Helen Grant added that the findings of the Sports Persons' Think Tank were both "appalling and worrying".
Brendon Batson, a pioneering black player with West Bromwich Albion more than 30 years ago and now a consultant to the FA on quality, insists colour is no longer the barrier it once was.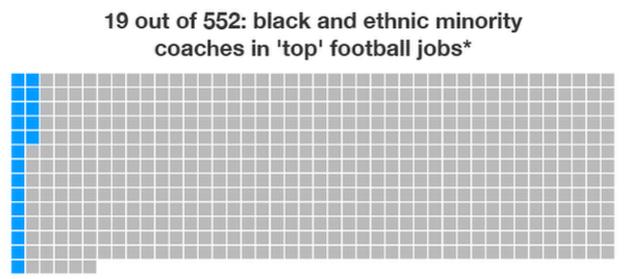 But European Cup winner Viv Anderson, 58, says there has been little change for black coaches since he was a manager in the early 1990s.
BBC Sport spoke to three aspiring coaches, all enrolled on the FA's Coach bursary programme aimed at boosting the number of black and ethnic coaches in the game, to learn about their hopes and ambitions.
'I know people who have given up'
Vill Powel, 35, works for Sheffield City Council and with Rotherham United's Under-14s
Why are you on the course?
"I played from nine, went into the professional game, didn't quite reach the heights I expected. I wanted to stay involved. The obvious thing was to go into coaching. I did my Level Two in 2010, then my Uefa B. I don't want anything, qualification-wise, to prevent me from getting to where I want to be in terms of staying involved in the game."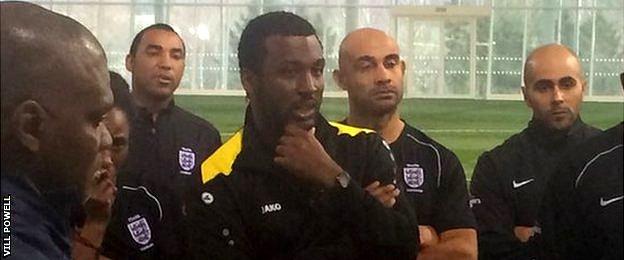 Do the stats put you off?
"I am someone who has always thought it was down to me whether I was good enough or not. It is more about opportunity. I am going to get a lot more knockbacks. I am not one to throw around allegations that it is about skin colour, even though there are too many elements of that. I have experienced them. But I also believe there are opportunities there. It is just harder to find them. If I have to kick doors down, that is what I will do."
Do you believe colour is an issue?
"I am stubborn. I don't take 'no' for an answer. I know people who have given up. For me, it is the frame of mind. You have to be mentally strong, even though you might feel the opportunities are not going to be there, or it is going to take twice as long. I will get there eventually. I have to believe that otherwise there would be no point. I might as well stop now."
Where is 'there'?
"Managing in the Premier League or at the elite level. Whether I have to go abroad to come back to build a reputation, I will do whatever it takes. I have sacrificed a lot already to get to this point. I am involved in football at the minute seven days a week, whether that is at an academy or at semi-professional level, and I work full-time. I have been doing that for the last four or five years. If I never get an opportunity, at least I will know I have done everything in my power. If I do get an opportunity and I don't succeed, I will know it is because I wasn't good enough."
'Maybe I will land amongst the stars'
DJ Hamilton, 35, works with Brighton & Hove Albion's Under-14s and Brighton University
Why are you on the course?
"I want to continue my journey into football, the game that I love and am so passionate about. I also want to advance my position in this game. I came here on my own accord. I got my badges without any support from the club. I am not just going to wait."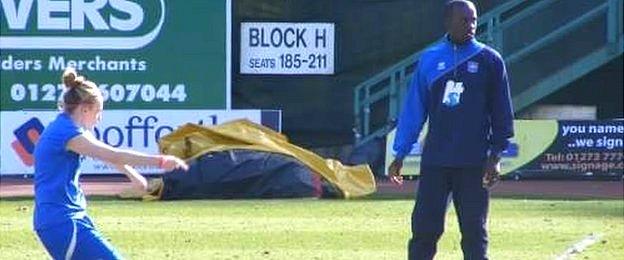 Is colour an issue?
"The world is the world. I see things a bit differently. Can I really say I have been held back as a direct result of my colour? I think the answer to that is 'no'. Have there been things that suggest it could be because of that? Possibly. But I am never going to get those answers. I look at it like this: I want to be there because I am better than everyone else."
What sacrifices have you made?
"Relationships, possible job opportunities. Every job I have done has been about supporting my ambition to get a job in football. I have been fortunate that my employers have always understood that."
What's your goal?
"Ultimately I want to fulfil my ambition to one day stand on the sideline in a ground filled with thousands of people and see a team I am helping and supporting to achieve success. Maybe I will land amongst the stars. I want to be the England national manager. How amazing would that be? I just want to coach at the highest level possible. My minimum aim is to be the head of an academy or a technical director."
'I am competitive, I want to improve'
Helen Nkwocha, 38, works with Ware's Under-17s and Under-19s, plus Harlow Town's Under-14s
Why are you here?
"It is a natural progression for players as they get older to go into coaching. It is quite a competitive industry, so you have to get your coaching badges. The A Licence is the next step for me. It has been a real challenge on lots of different levels. I am not naturally a very pushy person. I have learned quite a few lessons about how to assert yourself."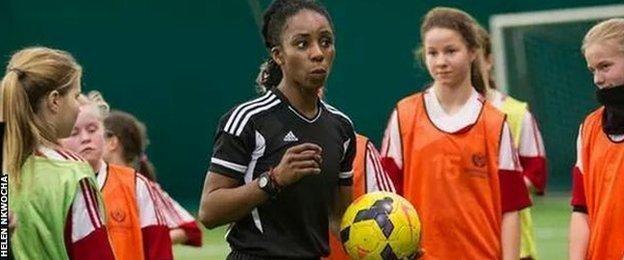 Is colour an issue?
"Maybe. It depends whether you listen to your sixth sense. Sometimes discriminatory behaviour can be really subtle. Your perceptions can be clouded by other things that have happened to you. I could say it is because I am black and I am a women but, really, white males around me are having to deal with just as many, if not more, problems. It is grassroots football. There are certain restrictions on facilities or time or space, or quality of player, or attitude. That is the football world."
What motivates you?
"I am really conscious the FA is trying to help us lots and lots. As well as being grateful for that, I am competitive. I want to improve. You don't want to recognise the ceiling. You just want to push yourself so, literally, I don't stop until I am able to show that I am good enough for every level of coaching, which has to be the Pro Licence. But I know that might be another 20 years. That is how challenging it is."
What's your goal?
"I want to be part of the cream of the crop. I am very focused. I am also very aware that I am nowhere near being as good as I should be. That is because I have been quite casual in recognising what I needed to do to get better. I was happy being an assistant when I should have pushed myself more. But there is no lack of desire or endeavour. It is just making sure I make the best of any opportunities I get."